Coast politicians warming up to Jubilee but will the charm hold?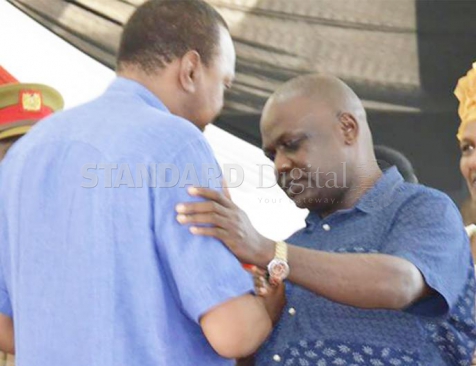 A section of Coast politicians in the Opposition appear to have closed ranks with government and their counterparts in Jubilee after a spell of a frosty relationship.
Jubilee started by reaching out to ODM officials like Gideon Mung'aro who have in their actions literally defected from the party. And now even the fiercest government critics like Mombasa Governor Ali Hassan Joho appear to have toned down their rhetoric against the Jubilee administration.
Other MPs in the region say they are ready to engage Jubilee administration in "politics of development and not confrontation". Among them is Nyali MP Hezron Awiti Bollo who hosted President Uhuru Kenyatta at a church function two weeks ago.
Nyali Member of Parliament Hezron Awiti Bollo is a man on a roll. Barely a week after the Wiper MP accompanied President Uhuru Kenyatta at a church service in Mombasa; he was among the Kenyan delegation attending the first Indian Ocean Rim Association (IORA) Ministerial conference in Mauritius.
While Awiti was the only elected politician in the delegation to the IORA meeting, senior ministers from trade, marine and fisheries dockets represented other countries.
Senior technocrats led by Dr Betty Minitraa Nyonje from the State Department of Fisheries and Joshua Mugodo, Director of Economic Affairs in the Ministry of Foreign Affairs, represented Kenya.
Among those in attendance was a delegation from Australia, the outgoing chair and Indonesia who have taken the leadership and will host the next ministerial meeting in 2017.
Frosty relations
Although Awiti's meeting with the President was no surprise because the Jubilee coalition leadership has been reaching out to other Coast politicians in an area that overwhelmingly voted for the Opposition, his closeness to the presidency has raised eyebrows.
Asked about his relationship with the President by The Standard on Sunday as he sipped juice by the poolside at Le Meridien on the Mauritius island north coast, the MP responded with a tight-lipped smile.
"For a long time in our country, politicians have used voters and resources in their regions as a vehicle to get power at the expense of the communities that elect them."
The MP then asked his colleagues in CORD to respect the President "because he is a symbol of unity" and that he met him in his capacity as the people's representative.
Awiti defected from ODM to Kalonzo Musyoka's Wiper in 2013 after he was allegedly denied nomination despite winning the party ticket.
"I will back Kalonzo when CORD members meet to pick the flag bearer but I will then support whoever will carry the mantle between him, Raila Odinga and Moses Wetang'ula," said Awiti.
In fact, Coast political leaders and the national government appear to have finally closed ranks with those in Jubilee after a spell of a frosty relationship.
Mombasa Governor Hassan Joho, one of President Kenyatta's fiercest critics, appears to have softened his stand as other MPs in the area say they are ready to engage Jubilee administration in "politics of development and not confrontation."
Mombasa is one of ODM's political bedrock and its leaders have had a frosty relationship with Jubilee leadership since 2013, sustaining allegation that the national government had marginalised the area.
Leaders led by Joho accused President Kenyatta's administration of "skewed development plans for coast" aimed to favour Kwale and Kilifi whose leadership had softened its opposition against the government.
Last September, Joho accused Uhuru's administration of witchhunt to silence him and claimed the government had conspired to strip Mombasa off its resources through privatisation of its main assets like the Port of Mombasa.
"They are frustrating my business. Whatever I had is being fought so that I can change my mind. But they should know they are hardening me, and I won't shift my allegiance," Joho said during the launch of Okoa Kenya referendum campaigns at Junda area in Kisauni.
The relations deteriorated further after Joho appeared to make the political feud personal when he publicly told County Commissioner Nelson Marwa during last year's Idd Baraza that "you are a junior person, the person who appointed you (Uhuru) is also junior."
However, majority of Mombasa leaders now say they had buried the hatchet and are keen to strengthen the relationship with the national government to fashion a common front against three main challenges facing the electorates - insecurity, narcotics and youth unemployment.
But there are still signs of sore points with some leaders remaining skeptical. Changamwe MP Omar Mwinyi warned that voters would not be "hoodwinked by political gimmicks".
"President Kenyatta is a personal friend but as leaders we have people hurting from the collapse of factories like Ramisi Sugar firm, the closure of the refinery in Changamwe and many others.
It does not need the President to visit the area for the government to give services," said Mwinyi, who added that he was out of the country during Uhuru's visit in Mombasa.
Development politics
Mvita MP Abdulswamad Nassir, however, said Mombasa leaders would continue engaging the Jubilee administration to realise their development plans. "It is now our time to get development from the national government. We have resolved to stop politics of confrontations and embrace development," said Nassir.
The President toured Mombasa County for two weeks a fortnight ago in a charm offensive to lure locals to support his development programmes.
Mombasa Woman Representative Mishi Mboko, a close ally of Joho, says save for the latest visit, Mombasa MPs were largely ignored in the past and never invited whenever the President visited the county.
"Given all Mombasa leaders were elected on a CORD ticket, in the past we were left out of the President's visits, we were never invited. That is why we were complaining that we were not respected. But this time around he changed the tactic and we were involved in all his (President's) plans," said Mboko.
Mboko says Mombasa leaders are ready to give President Kenyatta time to solve challenges facing the coast region.
"Nyege ni kunyegezana (scratch my back I scratch yours). Uhuru did not perform well in last election in Mombasa and if he fulfills the promises he made and solves the main problem we outlined in our memorandum during our talks with him we will support him," said Mboko.