Mombasa residents protest unending traffic jams as alternative routes are sought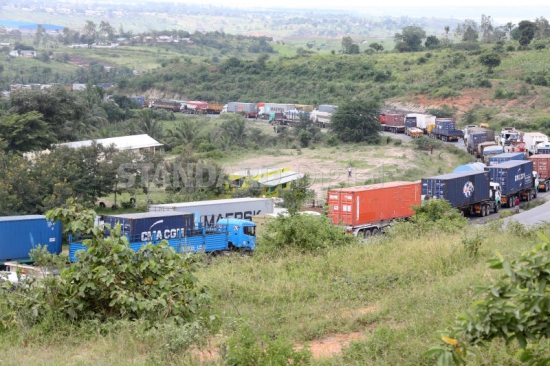 MOMBASA: Coast region residents are up in arms against persistent traffic jams along the Mombasa-Nairobi highway occasioned by long distance trucks.
The jams, mostly in Jomvu and Miritini, have seen residents spend long hours on the road unnecessarily.
The protests followed a snarl-up Thursday that lasted over five hours, paralysing transport in the region.
Police had a hectic time clearing the jam that started as early as 7am. They were only able to return things to normal after midday.
Coast Kenya National Highway Authority Regional Manager Jared Makori said the Government will in September initiate a 42km-super-highway from Mombasa to Mariakani.
He said funds for the road have already been secured from Government and the African Development Bank.
"The persistent jams have been caused by trucks but the problem will soon be fixed because the Government will construct a wider highway similar to the Thika super-highway," said Mr Makori.
Meanwhile, motorists said they spend over three hours on a 10km stretch of the highway, between Makupa causeway and Miritini, and blamed the snarl-up on trucks that carelessly park by the roadside.
Alex Kasuku, a resident of Kaloleni, Kilifi County, said it took him four hours to drive to Mombasa instead of 45 minutes, as he opted to use the Mbondora-Ngutatu-Mishomoroni route to avoid the highway traffic.
"I left Kaloleni at 7am and arrived in Mombasa at 11am through the alternative route as the Jomvu-Miritini stretch was impassable. The problem has persisted for the last two weeks, and has been worsened by trucks parking on the road reserves for many hours without either KeNHA or the police taking action," said Mr Kasuku.
He said the break down of old trucks along the busy section of the highway makes the situation worse
He asked the Mombasa and Kilifi county government as well as the national government to consider opening up bypasses to serve the coastal city.
Association of Importers of Kenya (AIK) Chairman Peter Mambembe said he recently spent more than six hours on a bus between Miritini and Jomvu following the transport crisis.
"The solution lies in building a waiting bay for trucks collecting cargo at the Port of Mombasa instead of allowing them to park on road reserves, and also transferring the container freight station to Mariakani and beyond," he said.
He said the highway traffic was negatively impacting on the economy.