Mombasa Republican Council members charged with unlawful assembly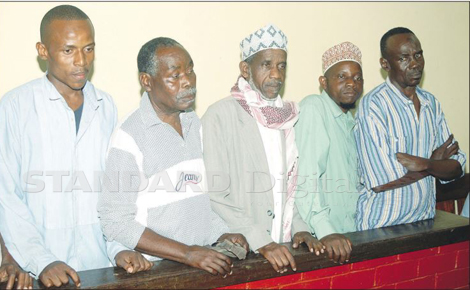 Mombasa Republican Council chairman Omar Mwamnandzi (right) and other suspects in the Kwale court dock yesterday where they were charged with unlawfull assembly following their arrested at Mwamnandzi's home in Kombeni. They were denied bond and the case will be mentioned on October 28. [PHOTO: OMONDI ONYANGO/STANDARD]
MOMBASA COUNTY: Police Wednesday arrested the leader of the Mombasa Republican Council (MRC) alongside his associates.
The arrest of Omar Mwamnuadzi and a dozen of his associates at his Kombani home, Kwale County, sparked anxiety among MRC members.
Last evening, Mr Mwamnuadzi, who is facing multiple criminal charges following his previous arrest on October 1, 2012, and his members were briefly detained at the Diani Police Station before being arraigned in court and charged with unlawful assembly.
Police asked the court to detain the suspects for a week to allow them complete investigations.
State prosecutor George Mungai said the police needed time to study documents found in Mwamnuadzi's home. He said the group is believed to be linked to a larger criminal gang.
Court records showed that the swoop was carried out at midday, but witnesses claimed the police raided the home of the MRC founder at around 9am.
"We were informed by the locals that about 12 people had arrived at the MRC chairman's home and because of suspicion about their number, we moved in and arrested them," said Kwale County Commissioner Evans Achoki.
Arrested with Mwamnuadzi was his son Swaleh Omar and a neighbour. Police claimed all other suspects hailed from Jibana in Kilifi.
Some of those arrested were identified as Khamis Mohamed, Mohamed Fadhili, Baya Mwagori, Antony Karisa, Mohamed Juma, Jumamosi Issa, Munga Tsuma, Katana Mwamulandi and Munga Mutii.
The crackdown was secretive and caused panic in Kaloleni, Kilifi. Among those detained are former Islamic madrassa teachers who police claimed helped to administer oaths to MRC members. The group has denounced the claims as preposterous and a fabrication.
It was not clear why the presence of those arrested at Mwamnuadzi's home raised concern.
OATHING PARAPHERNALIA
Mr Achoki said police found leaflets with MRC messages, and paraphernalia allegedly used in the oathing at Mwamnuadzi's homestead.
In court, Mwamnuadzi claimed that the police arrested him and his friends while in the middle of a celebration that had begun 24 hours ago.
The suspects were not represented and will appear for the mention of their case on October 28, before Kwale Principal Magistrate Elizabeth Usui.
MRC leaders insisted that there was no illegal meeting and that those arrested with the group's founder were his relatives.
There were claims that Wednesday arrests followed claims by Interior Cabinet Secretary Joseph Ole Lenku and Inspector General of Police David Kimaiyo linking the group to the terror group Al-Shabaab, and recent violence in Lamu County.
Two months ago, MRC claimed the Government was inventing intelligence linking it to Al-Shabaab and alleged new oathings in parts of Coast to justify a crackdown on its leaders.
In mid-2012, the constitutional court in Mombasa lifted a ban that had been imposed on the separatist group in September 2009.
MRC leaders have denounced Mwamnuadzi's arrest describing it as harassment. And The Standard has learnt that last week, the Government refused to register the group on grounds that it is a violent entity.
COURT CASES
MRC Secretary General Hamza Ruwa told The Standard last evening that he last met Mwamnuadzi on Monday to discuss an appeal over its failed bid for registration.
"These arrests are harassment and an infringement on our Constitutional right of association," said Mr Randu.
"We would like to be left alone to take care of the many cases we are facing," he added. He said MRC applied for registration as a society, but was denied on ground that the group is a violent organisation.
MRC spokesman Rashid Mraja said he had neither spoken to Mwamnuadzi nor met him in a long time.
MRC demands secession of the Kenyan coast from Kenya based on two colonial treaties, but the Government has accused it of waging terror. It opposed the conduct of elections in Coast last year and was accused of killing several police officers and election officials.
Harsh penalties for misbehaving MPs planned
A report of a crucial disciplinary committee has exposed the indignity of honourable members, as it lifts the veil on the details of embarrassing incidents involving MPs within Parliament Buildings.