Red Cross raises concerns over inadequate relief in Lamu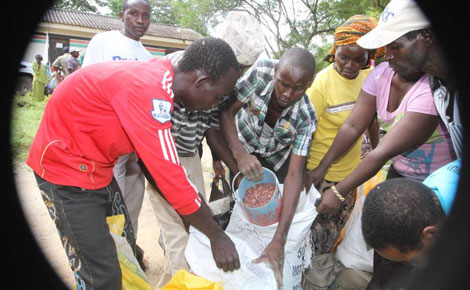 Victims of Hindi attack in lamu County receive relief food supplies donated by the Kenya Red Cross Officials Wednesday. [Photo: Maarufu Mohamed/Standard]
Humanitarian aid arrived in Hindi, Lamu County, Wednesday but the Kenya Red Cross Society said the Government had advised against the establishment of camps outside the prison compound for fear of more attacks.
The agency said the number of families seeking help had surpassed their earlier estimates and warned that the relief supplies would not be enough.
"We did not plan for such a large number of people. The initial figure budgeted for was 225 families consisting of 1,500 people but the numbers have swelled since yesterday to more than 2,500," said Mohamed Abdhulkadir, Kenya Red Cross Lamu Co-ordinator.
He said they had brought in 55 bags of rice, 20 bags of beans and 90 litres of cooking oil and that the stock may not last a week given the number of displaced persons they found.
Other than the food, Mr Abdhulkadir said the agency was also supplying kitchen utensils, blankets and sanitary towels to families whose houses were burnt down during Saturday's carnage.
"We have also supplied bags and formalin to preserve bodies in the mortuary. But the administrators asked us not to erect tents or establish camps outside the prison," he said.
The agency warned that if the Government would not restore peace quickly to enable the families return to their homes, then Lamu was facing starvation as wild animals had started invading farms and destroying crops due for harvest.
Hindi is the breadbasket of Lamu, Tana River and even parts of Kilifi given its arable land.
Local politicians expressed concern that security forces would make arbitrary arrests in a bid to meet the 48-hour deadline issued by Deputy President William Ruto on Sunday to get attackers dead or alive.