Union warns of possible bleak outlook for hotel workers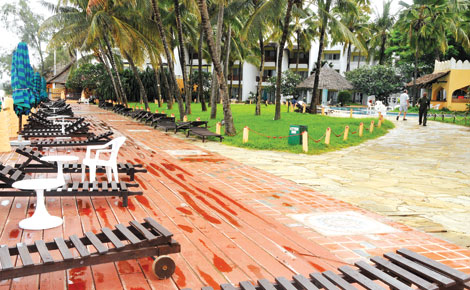 Bamburi Beach Hotel is one of the hotels that has been affected by travel advisories from Western countries to their citizens. [PHOTO: FILE/STANDARD]
The Kenya Union of Domestic, Hotel, Education Institutions, Hospitals and Allied Workers (Kudheiha) has said there is a possibility of more workers being laid off due to a continued decrease in the number of tourists visiting the region.
Coast region is facing an unprecedented slump in tourism brought on by the traditional low season and travel advisories issued by Western countries.
The warning came from Kudheiha Secretary for Kwale and Mombasa counties, Zack Osore, who was speaking to The Standard yesterday at Diani Sea Resort after a meeting with Kenya Association of Hotel Keepers and Caterers (KAHC) Coast chapter under the Dispute Committee umbrella.
"By end of this month we will have a lot of people, employed on contract terms, laid off. This is not the employers' wish but is due to the situation at hand," he said.
Collective responsibility
He said most hotels categorised employees in three ways – permanent, contract and casuals. The total number of workers in these three categories is 8,500 for Mombasa and Kwale counties while employees on contract number about 3,000.
Mr Osore said Kwale County has about 1,200 casuals who have already been laid off, adding that the number could be higher because this figure refers to those who have been documented by the union.
"We are urging our members not to blame the situation on their employers. This is a national disaster and we all must take collective responsibility, sit down and talk to arrive at a solution," Osore said.
Some of the measures that Kudheiha wants the Government to implement include reducing, by 60 per cent, VAT and any other tax currently attached to tourism.
It also wants a two-year extension of President Kenyatta's temporary ban on landing fees.
"We want to tell the national government that our people are losing their jobs due to insecurity. We have already started to work on modalities of handling this advocacy programme," he said.
Osore urged the Government to negotiate with Western nations that had issued travel advisories against visiting Kenya, saying tourists from the West were irreplaceable.
He however noted that hotels might end up doing well in August due to conferences and family tours brought about by the August school holidays.