Police halt protests over slain cleric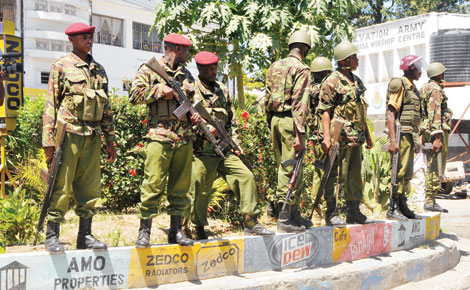 GSU officers standby near Salvation Army Centre, Friday. Muslim youths who wanted to protest the killing of Abubakar Shariff after Friday's prayers were stopped by the police. [PHOTO: GIDEON MAUNDU/STANDARD]
By Joackim Bwana
Mombasa, Kenya: Heavy police deployment across Mombasa's Majengo slums and other militant strongholds deterred followers of slain radical preacher Sheikh Sharif Abubakar alias Makaburi from demonstrating to protest his killing on April 1.
"There was no violent demonstration anywhere in Mombasa," proclaimed Mombasa County police commander Robert Kitur last evening after police dispersed small groups of youth that had tried to attack police and journalists with stones.
Earlier, Kitur and Mombasa County Commissioner Nelson Marwa outlawed a demonstration called by two human rights groups Haki Africa and Muslims for Human Rights today and warned members of the public not to attend.
"They applied for a demonstration today but we have did not allow that request," said Kitur yesterday.
Marwa accused Haki Africa executive director Hussein Khalid of inciting the youth to violence instead of educating the public about their rights in a civil manner.
There were fears most of yesterday morning that Makaburi's youthful supporters would pour out of Musa Mosque, a militant stronghold into the streets of Majengo to attack police and members of the public to avenge Makaburi's killing but the few incidents that occurred were promptly stopped.
Overnight police were deployed at the Salvation Army Church in Majengo, which has been burnt twice by militant supporters of Makaburi and his former comrade the late Sheikh Aboud Rogo.
Inciting message
This was the strong and scary message given to the Muslim worshippers by an unidentified speaker as they parted after their Friday prayers at Musa Mosque now called Masjid Shuhadaa mosque in Majengo an area that is always known to be the breeding ground for radicalism.
The speaker swore to avenge Makaburi's death and urged observant muslims to cleanse Mombasa of infidels.
The speaker gave the chilling message on the mosque's public address system.
Later some youths from the mosque attempted to loot and destroy property as they engaged police in running battles as teargas were shot in the air to disperse them.
Kitur said that he is yet to receive the inciting message by the cleric at the mosque from his officers in the field and that he would issue a statement.
"I am yet to receive this information from my officers pertaining this radical preaching at Masjid Shuhadaa mosque but the fact is that we have deployed enough security around the island to combat any trouble that may arise," assured Kitur.