Cleric's 'avowed foes' defend him in death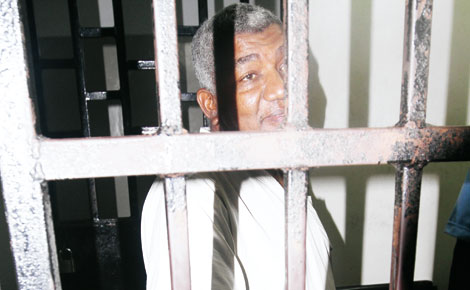 Makaburi in a Mombasa court cell last year after he was arrested on suspicions of terror related incidents. [Photo: Maarufu Mohamed/Standard]
By Patrick Beja
Mombasa, Kenya: Abubakar Sheikh Shariff alias Makaburi never held any position in a mosque and never served as an imam.
But he was he was smack at the heart of the troubles that rocked several key mosques in his last days, especially at Masjid Musa, which his supporters renamed Masjid Shuhadaa or Martyrs' Mosque.
He frequently worshipped in these mosques and last year succeeded in inciting followers of his former comrade, the late Sheikh Aboud Rogo, to throw out imams and preachers from the Council of Imams and Preachers (CIPK) of Kenya.
His supporters are also believed to have been behind the attempted murder of Sheikh Ahmed Ali Bahero.
Bahero who opposed some of the teachings of the late Rogo (one of Makaburi's mentors) was considered not radical enough by Makaburi and his legion of followers. Makaburi's bossom friends were the late Sheikh Rogo and Ibrahim Amur, who were both linked to terrorism and Al-Shabaab training and recruitment.
Makaburi made enemies with virtually all Muslim clerics, including the office of the Chief Kadhi, Supreme Council of Kenya Muslims and other imams who lived in fear of him and the followers he and Rogo had cultivated over generations.
But in death, he now appears to have won back some of his erstwhile critics, including some who are now praising him and demanding justice over his killing. Among these is former nominated MP Sheikh Mohamed Dor, the Secretary of CIPK, who described his killing as "an act of terrorism."
The Muslim clerics described Makaburi as popular among Muslim youth, approachable and jovial to those he associated with.
Makaburi is said to have invited several Muslim clerics for prayers on Friday next week at Shuhadaa Mosque as part of peace building in Mombasa following recent chaos there.
Supkem's Sheikh Muhdhar Sherif Khitamy said Makaburi was working closely with other Muslim leaders to tackle radicalism in Mombasa.
"Makaburi was extremely popular among Muslim youth. We were working closely with him to reconcile youth and imams."