You get what you deserve on matters love and leadership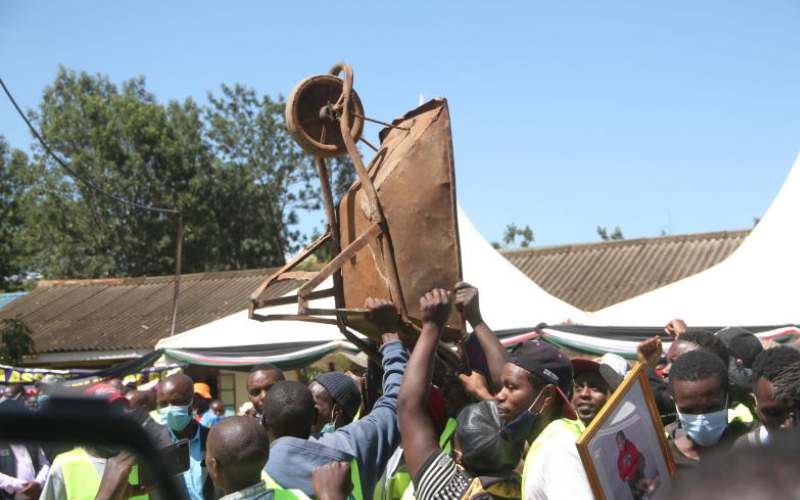 If you are a visitor to Kenya's cybersphere, you will realise it is a vibrant space flowing with ideas, half-truths and faux profundity. Ideas flow freely, all the time and cannot stop even during Valentine's Day when love is in the air and all that people are expected to spread is joy — and that is always a tough task for a people so used to encouraging hatred.
Kenya's cybersphere, more so Twitter and Facebook, has experts of all fields of knowledge. From experts on love, cooking, parenting to vacationing, business, and culinary arts, soft life, all the way to space exploration and more futuristic topics and ideas, Kenya's cybersphere have them all — and they are not afraid to close their minds and think with their fingers.
Considering that Kenya has the highest number of political analysts and pundits per capita in the region, the favourite topic on Kenya's cybersphere is always politics, and no matter what the subject of discussion is, the conclusion will definitely have violent political undertones.
Topics on love, romance or just happiness are for the weak, for, it was ordained that where two or three Kenyans gather in any politician's name, politics is there among them, to numb their thinking as they spew half-truths, nothing but half-truths, so help them god.
Ever since the wheelbarrow was invented and declared the perfect futuristic tool and mode of transport to take Kenyans to the next century, all the talk has been about, well, the wheelbarrow, with echoes of hatred and violence.
Every Makau, Onyango and Njunguna, even Wekesa, Mohammad and Kipkoech, have all been focusing their energies on this modern piece of technological marvel which will take Kenyans to the always-talked-about Konza Technopolis, and beyond, to a place of milk and honey and microchip-coated unemployment.
But early in the week, politics was wheeled away and love, romance and matters of the heart — broken or intact — took over. All the talk was about matters of the heart, garnished with the love for food, and inability to cook which was such a surprise in a country where politicians are so adept at cooking books and cooking up stories to cover up their crooked ways of pilfering public coffers.
Cooking food, not books, like loving, is a basic skill just like eating and require little or no intellectual input, just like relieving oneself or making babies. That was not in contention on Kenya's cybersphere where Kenyans murder logic immediately it is posted and then swiftly move on to the next victim. What was being contested is whether Kenyan men should cook for either themselves or their partners, and whether cooking portrays them as weak or they are just weak naturally and that is why they cannot change the country's fortunes yet they have dominated positions of governance for eons.
All the experts presented their views, and keeping with Kenyans love for missing the point, and always voting in the wrong people who do not add value to their lives, others started talking about the kind of gifts they should get from their partners.
The givers said socks is the best, and the receivers said they are tired of being given socks and want change — and that is so rich coming from a people who embrace mediocrity and lack the spine to effect any changes in the way they are governed.
As it is in the world of governance where voters get the leaders they deserve, so it is when it comes to gifting where matters of the heart are concerned. Often, you get what you deserve, and if in your partner's eyes, you are worth a pair of socks, then socks be it. That is what you deserve based on your energies, same way you deserve the politicians you vote in. As Kenya's scholars, intellectuals and the others were busy discussing whether they should cook or not, and whether cooking is a basic or specialised skill, it was unfolding that their parental authority had fallen short of expectations as concerns the Covid-19 vaccine.
Like a partner who cannot keep promises in a relationship and have to come up with lies and excuses, the government, it emerged, had been economical with the truth as to when it will acquire and roll out the coronavirus vaccine.
If Kenyans are worried about that, then then it is because they have poor memories since their minds are malleable and are easily twisted. That is why they always end up disparaging love and spreading hatred because of politicians even when they know they are the ones who will suffer.
Like the lover who gets a pair of socks, Kenyans deserve everything thrown their way by politicians. Also, like the man who cannot cook or perform any chore that requires the least intellectual input, they should be ready to eat whatever they are served, and not what they want.
Back to cooking. It is a basic skill. Like eating, and spreading the love, which Kenyans need to learn to do daily, and not only today. That written, have a wonderful Valentine's Day, and remember that a man who cannot cook does not deserve to eat.
-The writer is an editor at The Standard