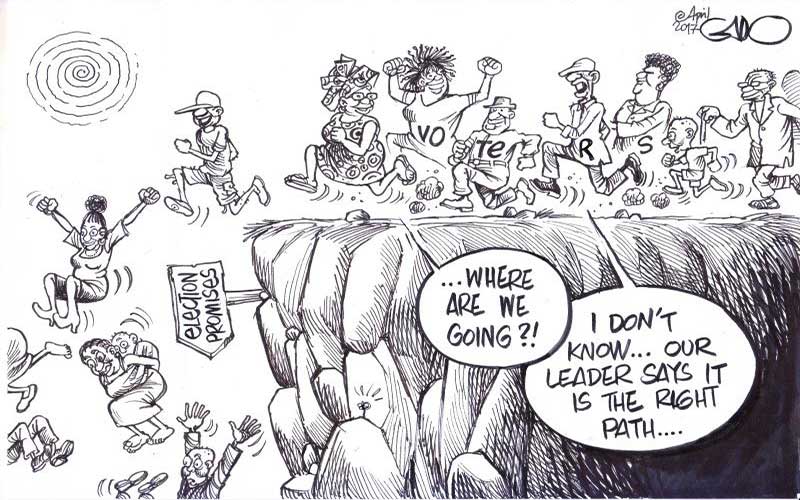 Ostrich mentality. It would not be a lie if someone said Kenyans have that mindset and not only fear confronting the biggest obstacle to their overall happiness, but also keep demonising institutions with the spine to speak on their behalf.
Like that ostrich we keep referring too, Kenyans bury their heads in their hands and do not take their elected leaders to task. Instead, they have become the politicians' apologists and are afraid to ask them why they do not deliver as they always promise.
For over two months now, Kenyans have been treated to a circus of sorts, a tragicomedy actually, by senators over revenue allocation to counties. They cannot agree on how much each county should or should not get, but they keep talking about winners and losers and at the end of the day, they end up with fat wallets.
Meanwhile, Kenyans, and they are many, who do not want to understand how their counties will be affected, are cheering or jeering them in marketplaces and on social media platforms, based on which senators shouted the loudest during the argument (because it does not qualify to be called a debate) in the Senate. Afterwards, they complain that politicians are taking them for a ride.
Read More
There is probably no modern country with so many adult babies like Kenya. Everyone — more so city folk — wails about the systems, the State and politicians, but they lack the spine to question the sensibilities of State functionaries or the erring politicians so they look for some other institution to blame for the country's problems.
There is no gainsaying that Kenyans are victims of a non-caring parental authority and a legislature that brutalises them from its echo chamber. It is a case of self-inflicted victimhood since Kenyans enable their suffering by supplying the ammunition and turning their backsides — then they blame the first person they see through their tears: the media.
On the issue of revenue allocation, Kenyans are more concerned with the arguments in the Senate, but not the substance of the debate, and that is why, like the senators, they support or oppose the motions, the amendments of the amended amendments and the convoluted revenue-sharing formulae based on the political faction they support. Senator Johnson Sakaja implies that his move to oppose the original formula and come up with another one is because he does not want any other county to lose, but he has not explained to Nairobians who elected him if what the county will get is enough to cater for the services they need.
But Sakaja is not the only senator opposing or supporting any of those amendments and formulae without considering what their voters think or explaining to them how they will benefit. Many are doing it and to be fair, senators are not the first to act this way. MPs perfected this art of shouting so as to be heard outside their constituencies by people who never elected them or supporting motions based on the whims of their political lords without caring if the voters will benefit.
Lose and win
It would be wrong to blame the politicians for their wicked ways because the voters whose interests they should champion first are only interested in the political noise and not the basis of their decisions. So many Kenyans — more so rural folk — do not understand the new revenue sharing formulae and do not even know what was applied previously. Currently, they only listen to "lose and win" noises because such are the political skullduggery they love, and that is what the senators, in this case, and other elected leaders in other situations, offer them.
Ideally, Kenyans have never really understood their constitutional rights or known what the people they elect at every level to represent them are meant to do for them. Actually, they do not want to know because to them, it pays to be crybabies so they can be pitied and helped, yet they have the power to change the systems but have been numbed with handouts during election time. Kenyans say that politicians have made them voting machines, and care about them only when polls are near, but they chose that lifestyle and politicians are just exploiting it to their advantage.
Before the 2010 Constitution was passed, Kenyans said they will not read the draft because it had been read for them by their political lords. Then, they voted for it without knowing whether it will consign them to suffering or improve their standards of living. Now here they are, wailing about politicians and the economy and corruption and healthcare, yet, just three short years ago, they were celebrating that their votes were a birthday gift. They were voting machines — and they voted.
Kenyans believe that their duty in governance and the political process is just casting ballots, and then some people they never elected are supposed to harangue politicians over their promises and force them to deliver. No. That is not it. Kenyans have to own the whole process.
If they are serious about politicians being held accountable, they must also take responsibility for their mistakes and be held accountable for their poor choices.
-The writer is an editor with The Standard