Ex Igembe MP and five others deny theft of Sh1.3 borehole cash in 2013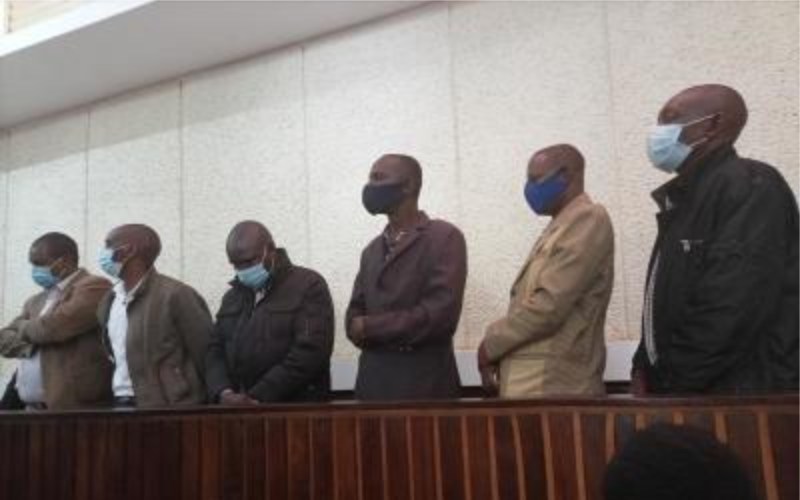 Former Igembe North MP Joseph M'Eruaki and his co-accused have denied committing offences that allegedly caused the area Constituency Development Fund (CDF) to lose Sh1.3 million.
M'Eruaki was charged with conspiracy to commit an offence jointly with the former area CDF manager Raphael Matu Makau.
Others facing 10 charges in the case are Kamweline borehole management committee members Joel Bariu, Henry Ntoitha and Joseph Ntongai.
Also facing charges was contractor Lawrence Wanjohi but Lawanco Enterprises said to be his company was struck off the charge sheet after an application by State Counsel James Kinyua.
The six were charged before Senior Principal Magistrate Thomas Muraguri after the MP's successor, the National Assembly Deputy Chief Whip Maoka Maore; wrote to the Ethics and Anti-corruption Commission (EACC) detailing alleged misappropriation of CDF.
He cited 43 instances of suspected irregularities, misappropriation and fraud in the Igembe North CDF when M'Eruaki was the MP.
The accused denied committing the offences between December 28, 2013, and January 22, 2014, at Igembe North.
The six are charged with embezzling the Sh1.3 million allocated for no work done, conspiracy to commit corruption, fraudulent acquisition of public property, abuse of office, engaging in fraudulent activity, engaging in a fraudulent practice in procurement proceedings and forgery.
The accused represented by three lawyers led by Basilio Gitonga were released on bond terms ranging from Sh300,000 to Sh600,000 or cash bail ranging from Sh150,000 to Sh300,000.
Mention was fixed on April 14, 2020.