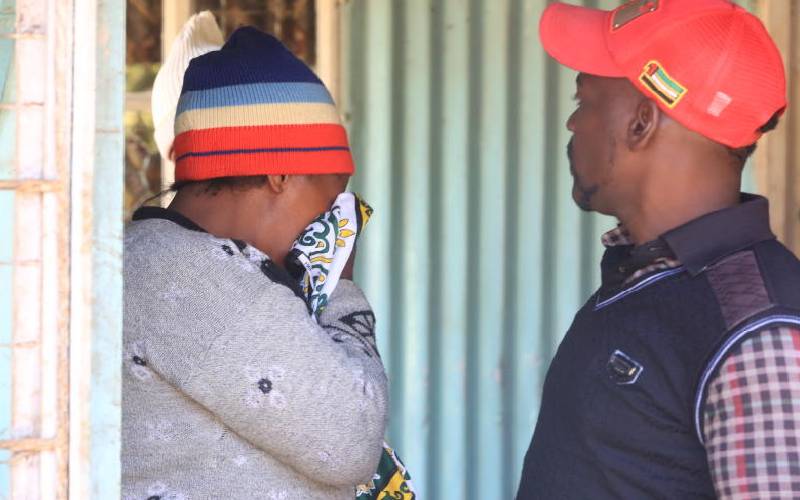 A swimming expedition for two high school students in Lari, Kiambu county turned tragic after they both drowned in a local river.
Brian Kiiru ,17 and Brian Githinji ,18 drowned on Monday evening as they tried to save one of their friend who had stuck in the river.
Read More
Elvis Njuguna ,17, a student at Lenana School who was saved by the two Brians told Standard Digital that he took the first dive in water, but got stuck in the mud forcing him to call his two friends to come rescue him.
"When I got stuck, I called them to come and help me and they came and successfully pushed me out, I held on to nearby vegetation and crawled out of the river," he said.
Njuguna, however, said while on his way out, he turned back, but failed to spot his two friends.
"When I reached a safe place and looked behind but never saw any of them, I knew something was wrong," he said.
Njuguna said he tried calling them to no avail before rushing home to alert neighbours, a trip that took him about 30 minutes.
The two who share the first name are from the same village with their homes a few metres apart.
Arrived late
The villagers ran to the river but it was too late as the two had already drowned.
Their frantic efforts to retrieve the bodies hit a snag prompting them to call in Kiambu firefighters who arrived at around 6pm and retrieved the bodies.
At Kiiru's home, there was a sombre mood with villagers speaking in hushed tones as they tried to come to terms with the loss.
According John Mburu, Kiiru's brother, his brother left home around 4pm to join his friends for swimming never to return.
"It is usual for young boys here to go for swimming in the river, they also take pictures there and enjoy nature what we never knew is that the same place is a death trap," said Mburu.
Kiiru's mother Teresiah Nyambura described his son as an energetic boy who was full of life.
"He was full of life and now he is no more, my spirit is wrecked as all my plans for him have been dashed," she said.
Fenced river
Nyambura now wants the government immediately fence off the river especially during this period when school going children are at homes.
"Keeping in synch with teenagers is a horrendous journey, they are cunning and full of energy they will want to experiment even dangerous places which ruin their lives," Nyambura said.
A Githinji's home, journalists were greeted by wailing women and children over the death of their boy, a Form Four candidate at nearby Kirenga Secondary School.
Eunice Njeri, Githinji's mother, said her son's death has cut a very promising and bright student who was due to sit for his KCSE examinations this year.
She added that students and young people frequent the river for fun but it has never occurred to them that the same place was a time bomb.
"I would ask the national and county governments to fence off the area to make it inaccessible to young children," Njeri said.
Njeri added that the Covid-19 pandemic has seen young people who cannot sit idle pulling all manner of trickery to kill boredom and asked the government to open schools especially for candidates.
"I was looking forward to this young boy to finish school and make me proud, all indicators showed a man with a very bright future, all this has gone down the drain," said the distraught Njeri.