Hospital releases boy's body, urges family to clear bill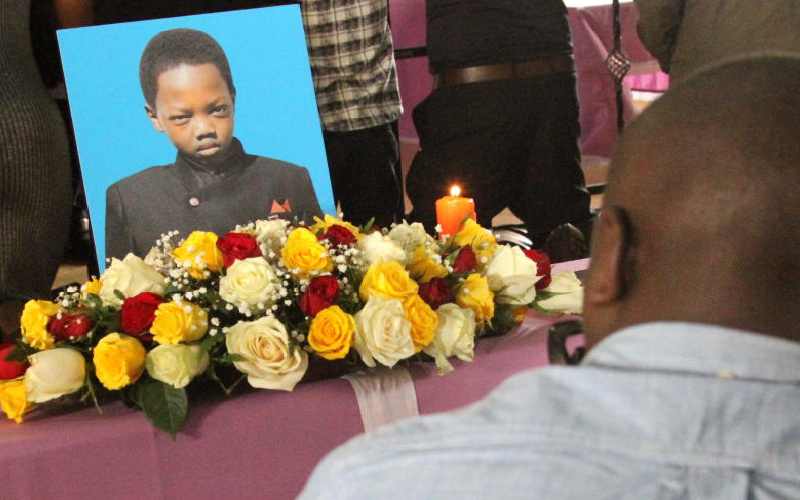 A family in Kiambu that held a funeral service for their son in March without his body can finally lay him to rest.
After four months of back-and-forth between the management of the Gertrude's Children's Hospital and the family of Brian Kimani, the hospital has finally released the boy's body, giving his family the chance to bury him.
Brian's story made headlines on March 11, this year, after his family held his funeral service in Ndenderu, Kiambu County, without the body. Gertrude's Hospital, where he died, detained his body due to a pending Sh12 million bill.
"After months of exchanging letters and numerous meetings, Gertrude Hospital management communicated to us through a letter dated Friday, June 13, 2020 that they would release Brian's body for burial," said Patrick Mbugua, the chairman of the committee that was tasked with fundraising for Brian's treatment and planning his funeral.
However, the release of Brian's body to his parents, Maryanne Wanjiku and Stephen Njoroge, was dependent on the family's commitment to clear the outstanding bill.
Mbugua told The Standard that the management of Gertrude's insisted that it released Brian's body on condition that the family meets representatives of the hospital on June 29 to discuss the settlement of the bill.
Edwin Onchari, the hospital's chief operations officer told the family in a letter that the hospital would negotiate a payment plan with the family on the said date.
The family is now planning Brian's burial, which is set to happen in a few days.
"We decided to move the body to Chiromo mortuary to enable proper embalming and preservation since the Gertrude morgue is only a holding facility," Mbugua told The Standard yesterday.
Brian passed on at the Gertrude's Children Hospital in Muthaiga, Nairobi, after a painful two-year battle with acute myeloid leukaemia.
Brian's illness began in 2018 and he was diagnosed with the condition at the AIC Kijabe Hospital.
He was treated in multiple hospitals in Kenya and India. Brian stayed at Gertrude's hospital, mostly in the ICU and HDU sections, until his demise on February 29, 2020, racking up a bill of Sh17.2 million.
The hospital declined to release his body until the family committed to clearing the bill.