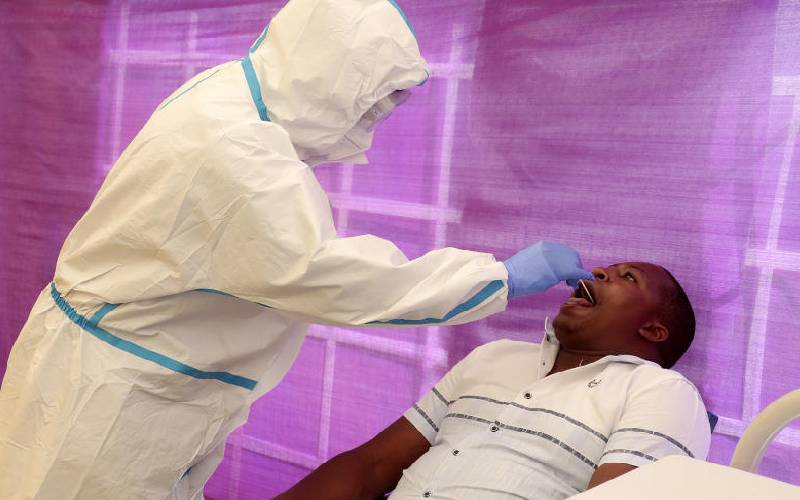 Four Chinese nationals were arrested in Murang'a County for allegedly conducting unauthorised Covid-19 tests on their employees.
The arrest comes after 25 employees of a Chinese construction firm in Kigumo complained of being subjected to unauthorised coronavirus tests.
The employees working on a road construction project in Kigumo Constituency have protested the manner in which their four managers, Chinese citizens, are conducting the tests on them.
Murang'a Health CEC Joseph Mbai said the four managers have recorded statements with police to pave way for the investigations.
The managers, Mbai said were collecting samples from their employees before complaints were registered in his office, leading to investigations.
"The matter is under police investigations as testing kits used by the Chinese nationals are unknown," said Mbai.
He said only Ministry of Health is allowed to collect samples for Covid-19 related tests.
At the same time, police in Murang'a have handed over two suspects behind the trafficking of bhang to the anti-narcotic unit.
The suspects were arrested on Thursday evening after they were caught in possession of bhang estimated at Sh14.5 million which was on transit to Nairobi.
Murang'a South DCI Officer David Cheruiyot said the cost of the haul has been revalued a street value from Sh5 million to Sh14.5 million.
The suspects were picked by officers from the anti-narcotic unit on Saturday for further investigations.
Police are seeking to establish how they were able to transport the consignment from the source through various roadblocks before they were intercepted at Makuyu.
"The DCI is interested to get into the source of the bhang and establish the cartels behind the illicit trade," said Cheruiyot.
Dida Jarso from Moyale and Yusuf Halkano Sonkono from Isiolo managed to pass through roadblocks using fake cards indicating Isiolo County Government staff.
One of the suspects had a badge purporting he was a nurse attached to Garba Tulla ward.
A week ago two GSU officers among others were arrested in connection with the transportation of bhang along Marsabit- Isiolo road.