Kiambu Commissioner filmed drunk to be taken to rehab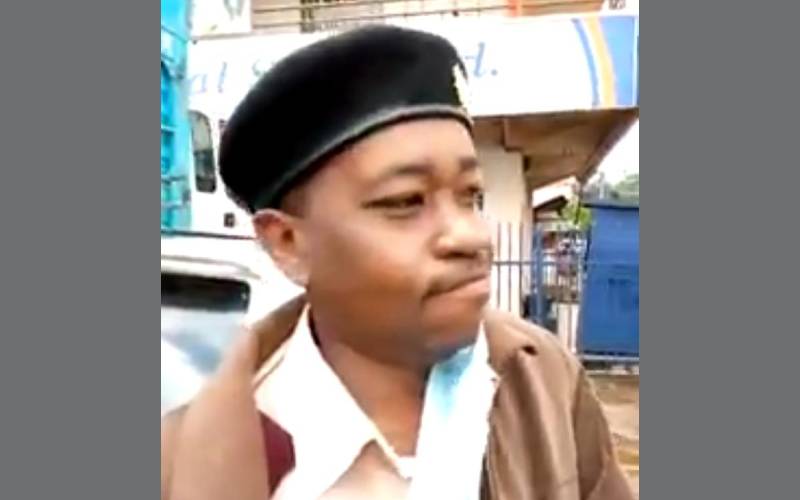 Kiambu County Commissioner Wilson Wanyanga has defended an assistant county commissioner filmed drunk while on duty.
A video clip on social media showed Lincolin Kagunyi (pictured) being harassed by the public in Limuru town, being asked to explain how he got drunk in the morning yet bars are closed to stop the spread of coronavirus.
Wanyanga said Kagunyi is a recovering alcoholic and exposing him in that manner could worsen his condition.
"The ACC has a condition and he was brought closer home so that the family can assist in the recovery journey," he said.
Additionally, Wanyanga said plans are underway to help Kagunyi get rehabilitation as he has not been improving on his own after battling alcoholism for years.
"We believe putting him in rehab will help him get over his drinking problem. Residents should refrain from worsening his condition by sharing those videos."
Resident Lawrence Kimani said it was not the first time Kagunyi was cornered drunk while on duty.
"Kagunyi is known in Limuru town. He has a drinking problem. Addicts should be helped and given a second chance."
Limuru Deputy County Commissioner Charles Makele said officers from the DCIO are looking for those filmed harassing Kagunyi.
"This is a sick man, he has his own rights ... residents ought to have reported the matter to the relevant authorities", he said.
Makele added that Kagunyi bought the alcohol from a supermarket and had been drunk the previous day.
The effects of the alcohol could still be seen the following day.
Efforts to reach his family for comment proved futile.