Fury over plan to ban miraa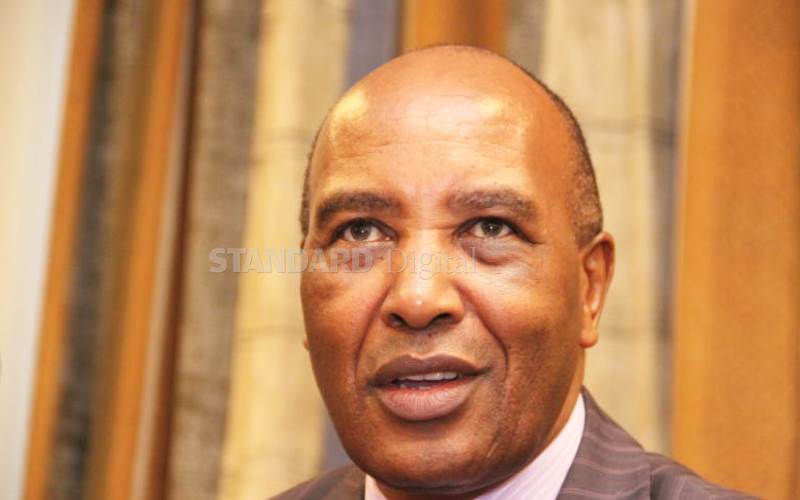 Miraa farmers and a traders' association want the Meru County Government to cut any economic ties with Nyandarua and other counties deemed unfriendly to the product.
While the miraa farmers reacted with shock and anger to Nyandarua Governor Francis Kimemia's (pictured) plan to ban the sale and consumption of the stimulant, the Nyambene Miraa Traders Association (Nyamita) through Chairman Kimathi Munjuri expressed disappointment with the county chief.
"It reeks of insincerity by governor Kimemia to plan to ban miraa. It is tantamount to claiming that President Uhuru Kenyatta was wrong in signing the law that recognised miraa as a legal cash crop. The miraa economy is bleeding and we as farmers are crying for justice. The governor should not be unfair to us in anyway, including through taxation," said Maoka Ngore, a large scale miraa farmer from Ntunene in Igembe North.
Munjuri said it was wrong for the governor, who is also the chairman of Central Region Economic Bloc, to instruct his Education Executive Stephen Mwaura to develop the legal mechanism to kill or control the trade.
"We will ban the sale and consumption of this drug, that is why I order a legal framework to be put in place immediately," governor Kimemia said on March 11, at Ol Jororok.
It is a plan that has irked the Nyamita, with Munjuri saying it was regrettable that even after Kimemia read a Building Bridges Initiative resolution, which called for support for agricultural products, including miraa, he now intends to ban it.
"Kimemia read our resolutions at Kinoru, which mentioned miraa and other crops, yet he is the one now planning to ban it. We should leave the economic bloc because it seems it will not help us. We should join a bloc that is conducive and profitable such as Isiolo, Marsabit, Garissa and Mandera. We should work with those because they are open," said Munjuri.
He added: "Such utterances are doing a lot of harm to miraa in other markets. It is like Kimemia is questioning President Kenyatta. How can you ban miraa knowing that the national law is superior to county law?"
Munjuri appealed to governor Kiraitu, Agriculture Cabinet Secretary Peter Munya to intervene with counties over the problems bedeviling miraa farmers.
Meru Senator Mithika Linturi and former Igembe North Imenti Joseph Eruaki said if the BBI report was genuine, counties should not increase taxes on miraa or ban it.
"Livelihoods in Igembe and parts of Tigania depend on miraa," Linturi said.