Cleric kicked out of home of 35 years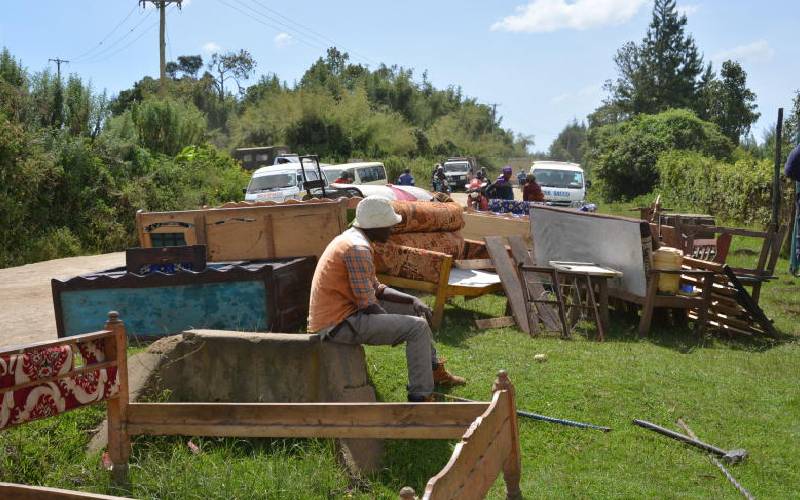 A Nyandarua cleric was yesterday thrown out of his home in Rwanyambo village, Kinangop, following a court order.
Fredrick Wang'ombe, the Archbishop of the Africa Independent Pentecostal Church (AIPCA), was evicted by armed youth backed by police.
Several houses were demolished during the eviction.
The eviction order was made by the Environmental Court sitting in Nyahururu.
According to the court order, the bishop's family was occupying a disputed parcel of land — a farm measuring 22 acres.
Mr Wang'ombe had been fined Sh100,000 or two months in jail after failing to move out of the land in a separate case.
During yesterday's eviction, a church built by the cleric was spared. A few people who had settled near the church were asked to move their belongings.
Take a quick survey and help us improve our website!
Take a survey
According to Daniel Wang'ondu, whose father Ayub Wang'ondu had laid claim to the land, the dispute started in 1985.
That is when the Archbishop and a few other individuals, Daniel said, encroached on the land owned by his father.
Daniel explained that his family had gone to various courts before the High Court finally ordered Wang'ombe's family to vacate the land.
"They (Wang'ombe's family) first ignored an initial court order and were fined Sh100,000 for contempt of court," said Daniel.
"This time, police were ordered to provide security as the eviction was being carried out."
Granted justice
Daniel who was present as the eviction went on, thanked the Judiciary for giving his family justice.
He said they had undergone untold sufferings.
"We are grateful that justice has finally been served after years of waiting patiently. We can now move into our land," he said.
Daniel added that they decided not to demolish the church after reckoning that the faithful who worshiped there can be engaged before a final decision is made.
"We had given the Wang'ombe's family time to move out their personal belongings peacefully but they rejected the offer," Daniel said.
"We had no option but to move in forcibly," he added.
One of Wang'ombe's kin who was affected by the eviction said his family will seek legal redress at the Court of Appeal, adding that the move was unfair.
He said the eviction order was flawed.
"We have known this place to be our only home for years," he said.
"We will definitely appeal this judgement that has rendered us homeless."