Rice stakeholders moot plan to improve sector, cushion farmers against losses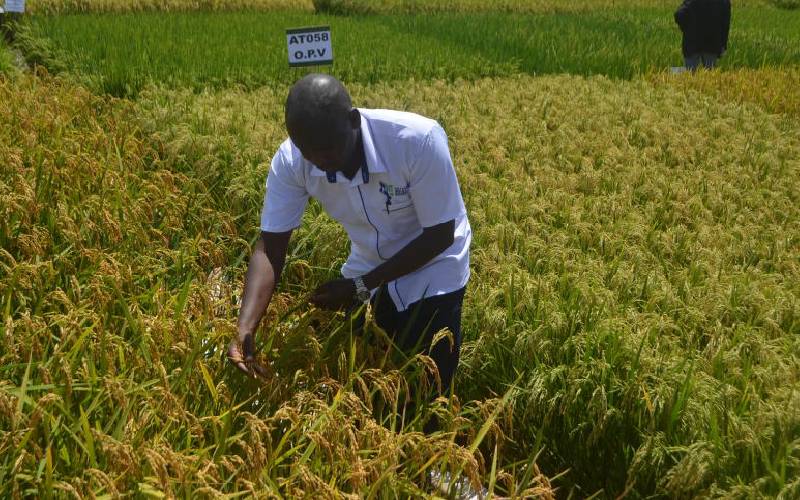 Stakeholders in the rice sector have come up with an elaborate plan to streamline the production of certified rice seeds and protect farmers against unscrupulous traders.
In a consultative forum, seed breeders, farmers, the Kenya Plants Health Inspectorate Services (KEPHIS), the National Irrigation Board and the Mwea Irrigation Agricultural Development Center (MIAD) came up with ways of ensuring that only quality seed are in the market.
The proposals will see farmers only buy certified seeds put in labelled packages from authorised dealers.
MIADs officer Vincent Koskei said move is meant to cushion farmers from planting fake rice seeds which at times end up failing to germinate or give out very low and poor yields.
Koskei said all certified seed breeders by KEPHIS have been listed online to help farmers easily detect any fake products being peddled by unscrupulous traders.
"This initiative is meant to rid of from the rice sector any fake seeds and once achieved, it will improve on production and at the same time increase the financial returns to the farmers," he said.
Speaking at the Centre yesterday, Koskei who is a professional seed researcher, said there were new rice varieties which will be released to the farmers in all rice growing areas in the country.
"To be sure on the quality and certification, the breeding process, harvesting up to packing and distribution will be closely monitored by KEPHIS to ensure nothing fake passed its standards," Koskei assured the farmers.
He said other than the irrigation-fed rice varieties, there were others which are rain-fed just like any other crops which are not only high-yielding but early maturing.
"If we combine the produce from the irrigated rice crop and the rain-fed ones, we will soon realise the national goal in food security," he said.
Koskei said since the initiative has already taken off, within the next few years, the 450,000 metric tons deficit of rice experienced in the country will be bridged up.
John Wanjohi, a rice farmer in the Mwea irrigation scheme, said the initiative will go a long way in keeping at bay traders who have over the years exploited the growers.