Residents 'harvest' maize after lorry rolls over in Ndenderu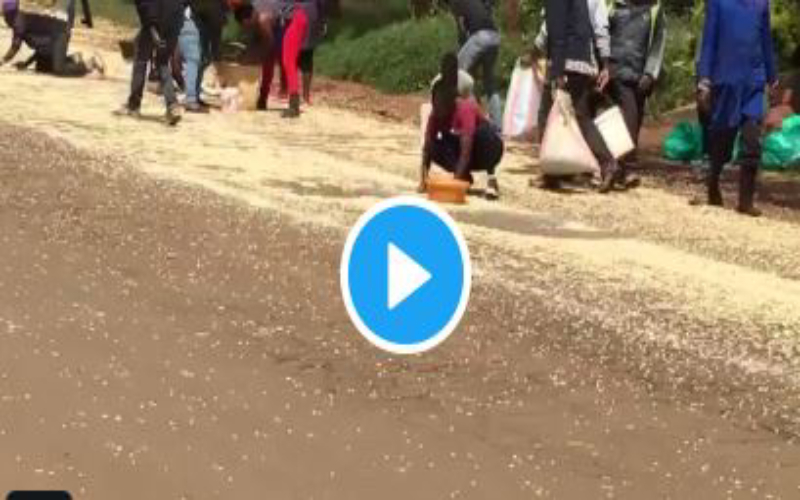 Residents of Ndenderu area along Limuru road in Kiambu County literally harvested maize on the roadside which spilled from a truck for more than one kilometre.
In a footage seen by the Standard Digital, residents of Ndenderu are seen scrambling to gather and collect the spilled maize grains.
Some had basins and buckets while others came in with sacks to ensure they collect as much maize as possible.
Kori Gathura, an eyewitness narrated to Standard Digital how the late morning incident happened.
Gathura says that the truck was transporting sacks of maize, unfortunately, the brakes failed at Cactus Petrol Station where it hit several cars before stopping at Ndenderu Junction.
After the accident, Gathura says that the ropes holding the sacks loosened and the maize started spilling.
Like the proverbial one man's troubles is another man's treasure, Ndenderu residents can now go for days without spending a penny on the high priced maize flour thanks to the accident.
Some online users expressed their disappointment over the residents terming them as looters.
"It is sad and ugly to see Kenyans from Ndenderu doing this. Kenyans have stooped that low to pick maize for use at home! Yes. Picking maize by the roadside! For how long must this go on?" Matt Wafula asked.
11:51 A lorry has lost brakes an hour ago at Ndenderu, Limuru Road causing an accident. Residents have been treated to free maize which spilled from the truck a kilometre. This is a blackspot for trucks w https://t.co/3VHldDRg1b pic.twitter.com/dJME5iXvGo via @2GathuraKori — Ma3Route (@Ma3Route) November 11, 2019
Others could not hide their surprise on the incident that coincidentally happened barely a day after the Kenya Bureau of Standards (Kebs) flagged five maize flour brands over high level of aflatoxin.
On Saturday Kebs warned the public against consuming Dola, Jembe, Kifaru, Starehe and 210 maize brands.