Big win as county unveils boards made from rice husk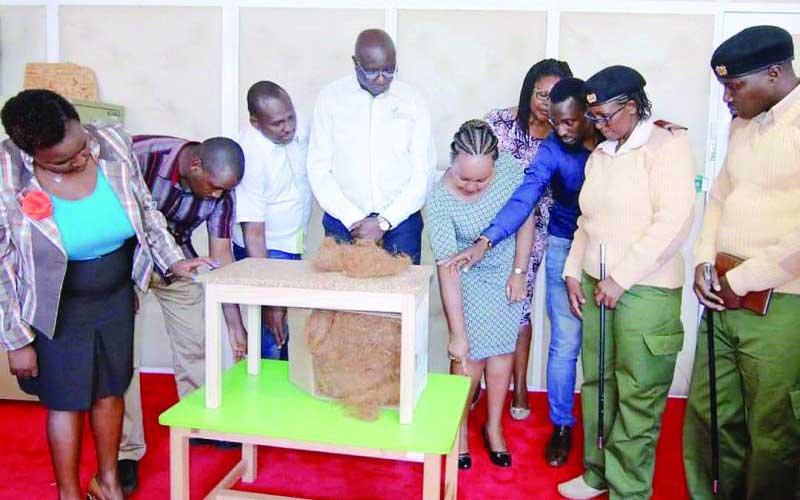 Rice farmers in Kirinyaga are set to benefit from a project of converting rice husks to make particle boards as an alternative for timber.
Yesterday, officials from the National Environment Trust Fund (NETFUND) Kenya presented particle boards furniture made from rice husks to Kirinyaga Governor Anne Mumbi.
"We have made a major step towards value addition in rice farming, which will not only create employment to locals but also offer alternative income stream for farmers and help in environmental conservation," said Ms Mumbi in her Kutus office.
The governor said the county government will set up a factory in Kirinyaga to convert rice husks into particle boards.
The feasibility study on conversion of husks to particle boards was carried out by the county in partnership with Low Emission and Climate Resilient Development Project in the first quarter of this year.
NETFUND said the boards were cheaper and denser than plywood and conventional wood and could offer a reprieve to industry players who are grappling with scarcity and high costs of timber resulting from government ban on logging.
In February 2018, the government imposed a 90-day ban on logging in public forests before extending it by six months in May and a further one year in November, in a move that is aimed at taming illegal logging in the country.
Environment Cabinet Secretary Keriako Tobiko said extension of the ban would allow the scaling up of tree planting campaigns to achieve a 10 per cent forest cover by 2022.
"It was foresight for us because we began this process of setting up a factory even before the ban on logging was imposed. We realised that as the largest rice producing county, we have tonnes of rice husks which can be processed to provide a cheaper and safer alternative to timber and ease the pressure on our forests while at the same time improving local economy," said Mumbi.
The governor said although her initial plan is to use the boards to construct furniture for Early Childhood Development Education centres, the project could be expanded into the production of material that could be used in the construction of affordable housing in line with President Uhuru Kenyatta's Big 4 Agenda.