Gakuru feared for his life, court told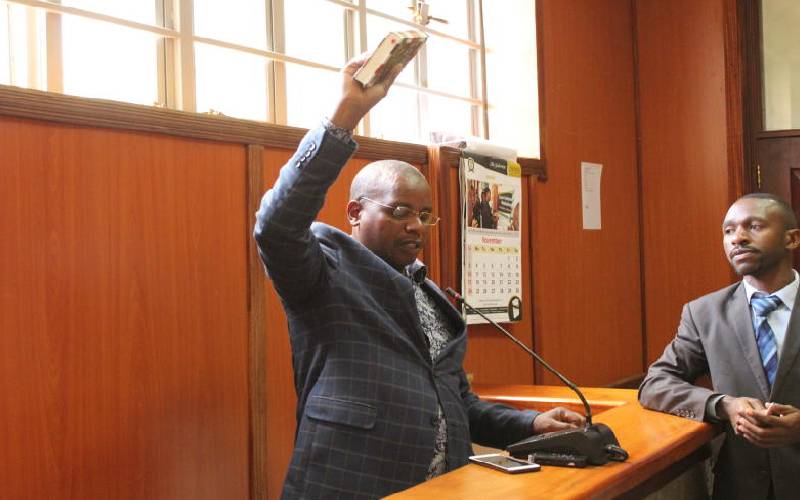 Former Nyeri Governor Wahome Gakuru had expressed fears for his life before his death, a Nyeri court was told yesterday.
Gakuru's nephew, Simon Waruru, told an inquest that the governor voiced fears after the 2017 General Election.
"The governor was paranoid and he was always suspicious of his surroundings. He insisted that no one should be let into his house without his consent," Waruru told a court that is seeking to establish the circumstances under which Gakuru died.
Gakuru was killed in a road accident on November 7, 2017 along the Kenol-Thika road. A post-mortem showed he died of excessive bleeding.
Mr Waruru, who testified alongside a traffic officer from Makuyu Police Station, said expectations were high from people who had supported the governor's campaigns by donating money or giving material support.
The nephew revealed that Gakuru was not comfortable being chauffeured by his driver, Samuel Kinyanjui, and referred to him as a 'mortuary driver'.
"Gakuru used to give scenarios of how one could be assassinated. He kept mentioning that his political enemies could easily use the driver to eliminate him," said Waruru.
Kinyanjui had previously testified that Gakuru sometimes preferred to drive himself.
In his two-hour testimony, Waruru said that one of Gakuru's supporters, Kinyua Kimuri, had donated money, vehicles and personnel to boost the governor's campaigns.
"The governor had offered him a minister's job in charge of water but Kimuri declined. He was interested in the post of political advisor because it would not not hold him in the office," said Waruru.
The nephew said that frustrations grew after Gakuru failed to appoint some of his close supporters, which led him to avoid eating out.
Waruru said that whenever they went to meet people, Gakuru avoided eating outside. And when he could, he preferred eating at a kiosk for fear of being poisoned.
"He was very keen on the environment whenever he was served any drink or food. He told me his nemesis could collude with hotels to poison him. He preferred eating mandazi and tea because it would take less time to prepare," said Waruru.
He revealed that Gakuru avoided drinking tea in the office and that he only trusted his nephew, Victor Gakuru, who was his chef at home.
"He used to tell me there were people who were not afraid of putting things in his drink."
Waruru claimed that a detective who led the investigation into Gakuru's death had told him that the governor could have been killed.
"We were in constant contact with detective Nyuguto and he personally told me that Gakuru was assassinated."
Waruru said they had met on the night of November 6 at Gakuru's residence where the governor played an audio clip of people grumbling about his government.
"The people who were speaking in that clip complained of dissatisfaction at the formation of the government and they plotted to bring him down," he testified.
The court was told that the audio clip was presented to the homicide detectives who processed the accident scene.
According to Waruru, the governor had ordered for a special audit of the former regime under Governor Samuel Wamathai because he suspected that funds had been mismanaged.
Waruru said Gakuru faced objections from various people including Mathira MP Rigathi Gachagua.
"The governor told me the MP would not want the audit to be done because he was an interested party in the previous regime," he said.
The traffic officer told the inquest that the governor's Mercedes Benz sustained a huge impact because it was traveling at high speed.
"The vehicle hit the guard rail at one point, ripped off a metal rail and bounced back," he said.
The inquest was postponed to January 27 and 28 next year after the prosecution failed to contact two witnesses who were expected to testify today.