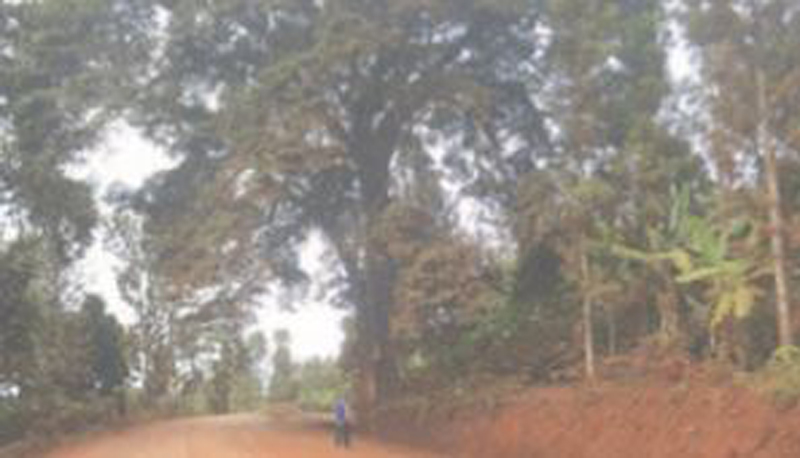 The contractor of Kianyaga Githure - Kibugu road in Kirinyaga County has been forced to stop the construction of a section where a Mugumo (fig) tree stands until elders make a cleaning ceremony to enable the sacred tree to be cut down.
The local community demanded the same, fearing that without the ceremony, a calamity may befall them. The fig tree has for long been considered sacred in Kikuyu traditions.
Many ceremonies were held under or around it.
It was left to age and wither by itself. "We have contacted the elders to perform the final rights before the tree is felled. Then, construction of the road at that section will continue," said Kirinyaga East Deputy County Commissioner Moses Gicharu.
Recently, a similar ceremony was carried out at Kerugoya town by Kikuyu elders at the site where a Mugumo tree fell to wade off any bad omen from striking the residents.
The cleansing ritual was performed by a team of Kikuyu elders (Kiama Kia Ma), from Nakuru and Kirinyaga counties.
The ritual which is normally performed between 9 am and noon was presided over by the Chief Priest Kigoci Wamiru, assisted by his Kirinyaga Counterpart Kinyua wa Mwangi.
It involves the piercing of a ram with a sharp object to drain the blood which is drained into a calabash and later sprinkled around the fig tree. The meat from the entire ram is then carried by the elders and sprinkled around the tree. All the meat is then burned to ashes under the tree.
The ceremony could be well the latest development to slow down the road, whose construction has been delayed for more than three years since President Uhuru Kenyatta ordered for its construction when he first visited the homecoming party of the then CS and now Kirinyaga Governor Ann Waiguru in 2014.
The president revisited the area during Waiguru's wedding to city lawyer Kamotho Waiganjo.
The company that first won the tender, a local contractor, was unable to proceed after poorly tarmacking only 8 of the 30 kilometers, forcing the government to award the contract to a Chinese contractor.
Locals have now welcomed the progress of the road that connects rural Kirinyaga to rural Embu at the Kibugu village.
James Muriuki, a coffee farmer from Ngiriambu village, through where the road is passing, said he is now assured his produce will get to the market on time.
"Sometimes my vehicle gets stuck in the muddy sections of this road when fully loaded with parchment coffee being delivered to the miller and you can understand the risks we face in case of theft or spillage," Muriuki said.