Catholic bishop bans politicians from church functions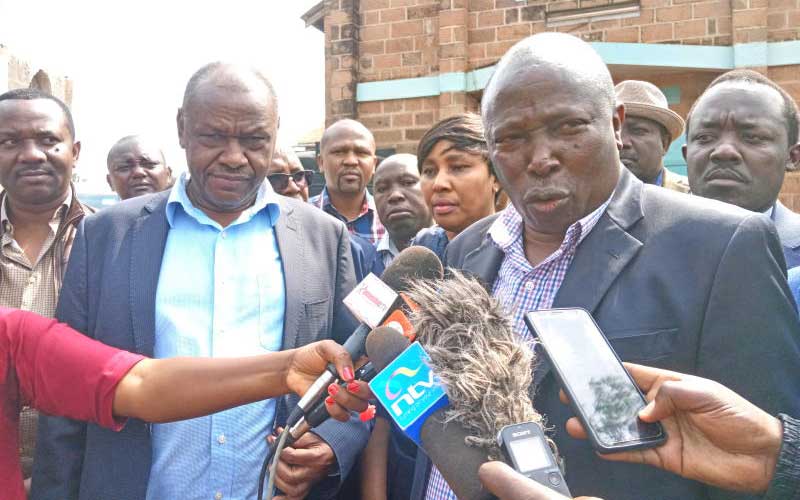 The Catholic Diocese of Murang'a has cancelled all events where politicians have been invited.
This is after a service at a Catholic church in Murang'a was disrupted after two MPs clashed over protocol during a fundraiser.
Bishop James Maria Wainaina ordered the clergy in Murang'a and Kirinyaga counties, that falls under his command, to suspend such activities.
The clergy acknowledged to Standard Digital they had received instructions from the bishop.
A priest in one of the parish told said the directive was until further notice.
"The bishop is annoyed over what happened at Gitui Church. The clergy has to obey the order for the dignity of the church," he said.
When reached for comment, Bishop Wainaina said, "Am hurt over what has happened. I have started an investigation so that I can understand what happened and why".
Where it began
MPs Ndindi Nyoro (Kiharu) and Maina Kamanda (nominated) clashed at the church in Kiharu, causing chaotic scenes that prematurely stopped the service.
The two legislators traded accusations as they differed over who should invite the present leaders to address the congregation.
The exchange was a replay of the supremacy battle between the Kieleweke and Tangatanga political factions.
Mr Kamanda had been asked to introduce parliamentarians and other invited leaders. But Mr Nyoro, who arrived later accompanied by his supporters, insisted that politicians from Nairobi would not be allowed to preside over a function in his constituency.
Officers from Murang'a police station intervened to calm the situation that almost turned physical, as the leaders and their supporters faced off.
Father John Kibuuru, who was presiding over the service, condemned the incident.