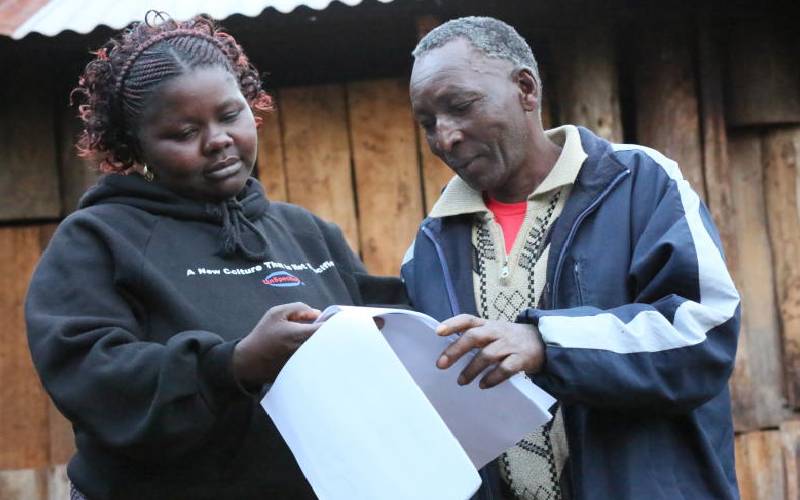 Grace Wamuyu has faced double heartbreak since her grandmother died two months ago. She has been grieving for weeks and, at the same time, is restless since the body is being detained over unpaid hospital bill. Seated outside her grandmother's wooden house at Ihwagi village in Mathira, Nyeri County, she recalls in grief the good companionship she had with her late grandmother Grace Wamuyu Muriithi. She would wish to have closure by giving her granny a decent send-off, but she is almost giving up because she is yet to clear over Sh1.3 million medical bill at a private hospital. The body was taken to the Karatina Level 4 Hospital mortuary after she died at Karatina Nursing Home where she had been admitted since June 2019.
SEE ALSO: 2,510 health workers to monitor home care
According to Wamuyu, the family has held a number of fund drives is yet to clear the huge bill. When contacted, the hospital's director Juma Mwangi said he advised the family to commit legally on how it would settle the balance, but relatives appear reluctant. "The advocate told us to deposit a title deed or a logbook as security for five months but it is not possible to raise the remaining amount in five months," said Wamuyu. The body was taken to Karatina Level 4 Hospital mortuary since the private hospital does not have a morgue. "There is a major problem in the health sector which may go beyond manageable level due to non-payment of bills. How will we manage to work if people fail to pay bills? Private hospitals run on patients' payments," argued Mwangi.
SEE ALSO: Probe on Mathira MP ropes in late Nyeri governor
Before the permit is handed over, Wamuyu's family is expected to settle the remaining Sh1,022,712. Wamuyu and her kin are some of bereaved Kenyans whose relatives have been detained in private and public mortuaries as 'security' for payment of accrued hospital bills. Carolyn Agosa's family grappled with a similar situation before the body of her later mother could be released for burial. Evaline Kaseyi Majani succumbed to cancer on July 1, this year, and her body had been detained at Mater Hospital mortuary over Sh1.3 million medical bill. The family hoped to bury her on July 27, but couldn't as relatives had not cleared Sh591,670 balance.
SEE ALSO: Mega transport projects put Nyeri town on road to oblivion
Cases of facilities detaining bodies are widespread in the country even after it was declared unconstitutional by the High Court. A few months ago, Health Principal Secretary Susan Mochache said the ministry had established a special team to go round the country to investigate cases of illegal detentions of patients and bodies over non-payment of medical bills. The technical team had been constituted after the parliamentary Health committee raised an alarm over increasing cases of illegal detentions. Her submissions to the Health committee in May revealed that Kenyatta National Hospital morgue had the most detained bodies. By then, the hospital had 387 bodies. Other hospitals mentioned in detention then included Nairobi Women's Hospital with 15 bodies. As Kenyans grapple with high medical bills, a draft Health Bill aimed at looking into detentions is gathering dust in Parliament. The Health Laws (Amendment) Bill 2018 sponsored by Nyando MP Jared Okello proposed a Sh5 million fine to facilities holding bodies over medical bills. The proposed Bill stated that "any officer or employee of a health institution responsible for releasing patients or bodies, who violates the provisions of this Act, shall be liable, upon conviction, to a fine not exceeding five million shillings or imprisonment for a term not exceeding five years or both." In several court cases, detention of bodies or patients as security for payment has been ruled to be unconstitutional. In 2016, High Court Judge Joseph Sergon sitting in Nairobi made a ruling that hospitals do not have rights to hold corpses to compel relatives of the deceased to pay bills. In the case, two relatives sued Karen Hospital and Montezuma Monalisa Funeral Home for illegal detention of the body of their relative Freddy Chieff Nyaigero after they failed to settle over Sh17 million medical and morgue bills. In his judgement, Sergon ordered the facilities to release the body for burial and directed the parties to agree on payments of the accrued bills. In another similar court case, Justice Philip Waki argued that there is no property in a body and hence cannot be offered or held as security for payment of a debt.