Governor Kahiga beats the storm to lift county's hopes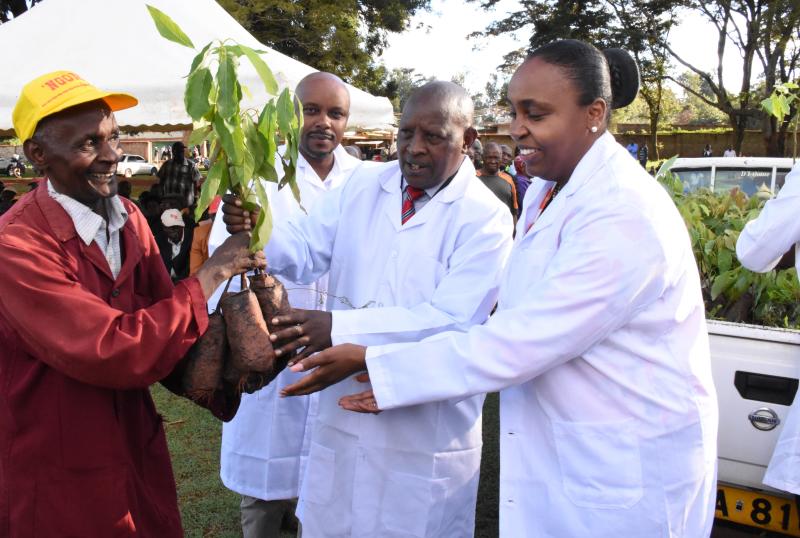 The Nyeri governorship was thrust onto Mutahi Kahiga's lap in a most unexpected manner.
It would have been a stroke of serendipity had it also not involved the demise of Wahome Gakuru, on whose ticket Kahiga had been elected to lead the county government as number two in command.
However, out of the unfortunate events, Kahiga has come out to revive the growth of a county that was on the precipice.
Gakuru's demise on the morning of November 7, 2017 in a road accident at Makenji area on the Nyeri-Nairobi highway struck a chord with the entire country, more so with Kahiga. The tragedy would be the ladder on which he would become governor.
His initial reluctance to assume office until after the burial, gave leeway for machinations to force his resignation, and uncertainty in some quarters over his ability to be governor.
Nyeri County Assembly Speaker John Kaguchia conceded to the uncertainty that the people had over his governorship.
"People had a problem with him becoming governor because of what looked like a lack of credentials. But he has demystified the whole idea of being governor," Kaguchia told Saturday Standard.
Two years down the line, Kahiga - or simply Mwalimu as he is commonly known locally - has endeared himself to the locals, gradually filling the big shoes left by Gakuru.
Unlike his predecessor who had a career in policy making, Kahiga, a former unionist, had served as a headteacher at Maragima Primary School in Kieni East sub-county, and was the Nyeri Kenya National Union of Teachers (Knut) executive secretary since 2011.
Kahiga, who is currently finishing his master's degree in management, has been able to fully constitute his government with the appointment of Deputy Governor Caroline Karugu.
Having been a teacher and unionist before his forays into politics, there was little to assure even the most optimistic of supporters that he was capable of steering the county successfully.
Yet, shy of two years after he took over, Kahiga has defied expectations and sailed the choppy political waters.
A fortnight ago, Nyeri County recorded a milestone when it was ranked second after Nyandarua for its impressive performance and prudent use of funds allocated to the county under the Kenya Devolution Support Programme (KDSP) in the 2017/18 financial year.
It was a remarkable improvement from the position 45 that the county had been ranked a year earlier.
Kahiga has kept the momentum he and Gakuru initiated. He has worked with the executive that he and Gakuru chose, the only changes being when one of the executives, Henry Kinyua, resigned in December to head an international company.
His inner circle of power is made up of Gakuru men, down to his personal assistant who was under the former governor's employ initially.
One of the biggest takeaways from his tenure so far is the harmony he has restored between the executive and legislature, whose relationship in the previous administration was fractious at best, and sometimes violently confrontational.
Mathira MP Rigathi Gachagua observed that the two arms of government were working in harmony and the resultant benefit would be to the residents of Nyeri.
"In all fairness, I think he is trying. He has kept the county together and is working very well with the county assembly, such that both can focus on service delivery," Gachagua said.
Nyeri Woman Representative Rahab Mukami was also full of praise for what the Nyeri County Government has achieved, saying Kahiga has steadied the ship.
"So far, so good. I like the way he (Kahiga) is doing his work and people can see what he has achieved. He has a unique way of working by reaching out to all, including his detractors, and is not confrontational," said Mukami.
Ward fund
Kaguchia explained the unity of purpose as the result of inclusion of ward representatives in making decisions about the developments in their wards.
"The county has come up with a small ward fund, which is included in the budget, such that an MCA, after consultation with their voters, can come up with a project worth Sh30 million that they want implemented in their ward. That in itself has reduced the hostility between the executive and the MCAs a great deal. Most governors hold onto all the resources and dish it out according to who is loyal to them," he said.
Locals feel that Kahiga has managed to steer the country in the right direction due to his hands-on approach and accessibility.
"The governor has not changed his interaction with people due to his position. He is still a common figure in the streets of Nyeri, interacting with people. I was surprised last Sunday to see him at the same kinyozi (barbershop) I go to," said Charles Karugu, a trader in Nyeri Town.
Kahiga attributed the rising profile of Nyeri to team work and dedication of the county's workers, saying he had given them a free hand to work.
"When we took over government, we met a staff that looked disjointed and lost. We are glad that within the space of a year, we have transformed them into a winning team and humanised our working environment. We believe that square pegs in round holes cannot deliver efficient services," said the governor.
He added: "When I took charge, I started reporting to work at 7am and I have seen a tremendous improvement in work ethics. I get weekly reports from all departments, which I read then give my comment on what should be done."
His modus operendi has seen him mostly domiciled in Nyeri, as opposed to his predecessor who would drop by the county to address an urgent issue.
It has become a norm for Kahiga to make impromptu visits to markets, hospitals or inspect projects, making it easy for him to monitor progress.
Nevertheless, he is on the verge of a new battle to defend his seat, even as political observers fault his self-assurance that the work he is doing will be enough to earn him votes should he opt to defend the seat.
"I think he imagines that he will do the work first then handle the politics later. He has taken a back seat and that is not very good for a politician. There is a 'we are waiting for him to finish so that he can go' attitude that has persisted and in my thinking, he ought to deal with that actively," one political observer noted.
To build his political profile, Kahiga has largely relied on assessment reports such as KDSP, which won him accolades across the agriculture-rich county.
"It is never right for a politician to wait to be vindicated by third parties. You need to be proactive, take the bull by the horns and actively build a brand for yourself," political analyst Philip Njau said.
"I do not think he has gone out of his way to build a brand. There have been attempts to do it, but they have not been given prominence and that raises one question, whether he has time on his side. He needs to move with speed to appoint a political adviser to handle the politics," he added.
His political approach and management style have both been scrutinised and sometimes criticised.
One-on-one meetings
Every Tuesday, tents are erected on the lawn outside Nyeri Town Hall, where hundreds of residents wait as they seek audience with the governor. In his diary, the day has been blocked out for meeting residents and no other activity.
Other than the meetings, Kahiga has also slotted time for Cabinet meetings every Monday at 7.30am, and receives status reports from the executives every Friday.
He has been criticised by elected leaders in Mathira Constituency for the way he handled the Karatina open-air market, which was opened by President Uhuru Kenyatta last year. Rigathi yesterday said the county needed to better manage the market.
"He must have delegated too much and I would urge him to personally take charge and have a hands-on approach when dealing with the market," he said.
One of his projects that has been lauded is the tarmacking of the town streets in Mukurweni, Nyeri and Mathira.
Nyeri politician Wambugu Nyamu said: "He has performed better than previous governments, but he is held back by a lack of long-term vision. He is not looking at Nyeri in the next 30 years."