Disaster: Fire destroys 150 hectares of bamboo in Mau Forest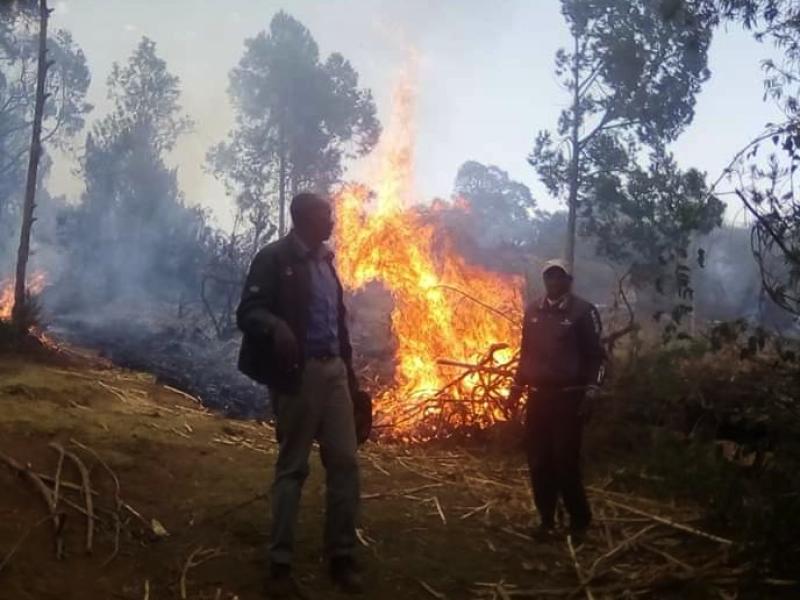 Nearly 150 hectares of bamboo have been destroyed after fire swept through the Mau Forest.
Kenya Forest Service (KFS) Eco-system Conservator Mwai Muraguri said the blaze had ravaged areas such as Bosnia, Eor Nabayie and Osuiyani.
"The fire broke out at around 6pm Tuesday evening in Bosnia. Due to the dry spell, it quickly spread to the other two areas and destroyed about 15 square kilometres of vegatation," said Mr Muraguri.
The KFS official said the fire was still burning, adding that efforts to extinguish it Tuesday had been hampered by nightfall.
He said Mau Forest was home to various wildlife species, among them over 40 elephants whose lives were in danger from the fire.
"We are working with a multi-agency team from the county government, Kenya Wildlife Service, Mara Elephant Project and the Kenya Water Towers Agency. Residents are also helping us fight the fire," said Muraguri.
Though the culprits behind the forest fires are yet to be determined, the KFS official blamed herders for the incident.
He said intelligence reports had revealed that herders grazing illegally inside the forest might have started the fire as part of a cultural practice that is supposed to increase the available pasture for their animals.
"Some herders believe that when they burn the forest and smoke gathers in the skies, it will condense and form rain. This idea is retrogressive and should not be condoned," said Muraguri.