Family of slain Wambui to wait a little longer before burying her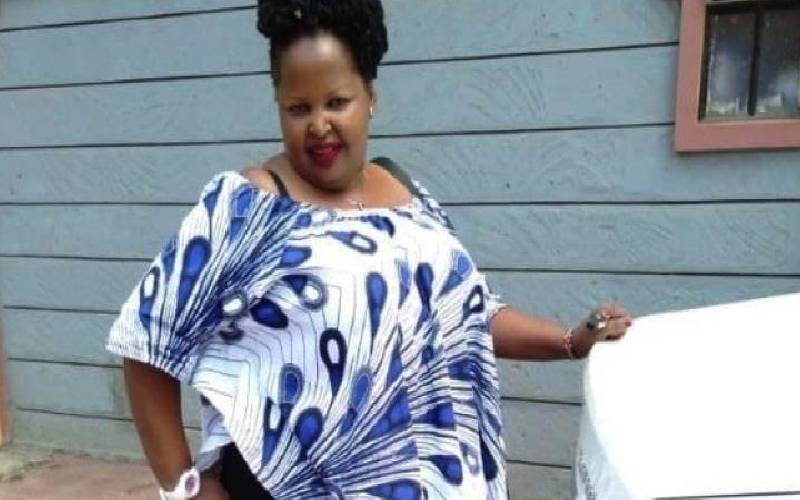 The husband of the slain Nairobi business woman, Mary Wambui, has the final say on when and where she will be burred.
Wambui's family explained that although Joseph Kori, the husband was in custody in connection with the death, he has a say on where the mother to his children will be rested.
Yesterday, the family said that Wambui, 39 who was married to Kori according to the Agikuyu customs was most likely to be buried at her husband's home in Mweiga, Nyeri County but subject to confirmation. Speaking to Sunday Standard, Wambui's younger sister, Esther Kamangara said the family was holding meetings in Nakuru and Nairobi but will have to wait two more weeks before finalising the burial plans.
"She was married more than 10 years ago and tradition stipulates that she should be buried at her husband's place. However, due to circumstances under which she was killed and the fact that her husband is still in police custody, we have not fully decided on her final resting place," said Kamangara.
She pointed out that during the meetings in Nakuru and Nairobi, it was resolved that they wait longer to see the direction the murder case will take.
Generous and trusting
"We are looking forward to see if he will be released on bond after the next appearance in court for him to give the way forward," she added.
Kiambu Senior Principal Magistrate Stella Atambo directed the investigating officer to update the court on the progress of investigations on February 13, when Kori and his co-accused, Judy Wangui will know their fate.
To the family, this means the earliest Wambui will be buried is after February 13 when the report will be given and this may have a bearing on whether Kori and his co-accused will be granted bail.
Esther described her sister as "too generous and trusting," which led her into the trap set by her killers. "She trusted everyone around her even when they might have meant harm to her. This is why she even went to the suspect's house without suspecting she would not leave there alive," Esther added.
Wambui left behind two children, one who had just joined Grade One while the firstborn is a Form Two student in Maragua. Her demise was a big blow to the family, especially her four other siblings who looked up to her for support, both financially and morally. "She has been paying school fees for some of our children, among them two in different universities in Nairobi. She was planning to build a house for our aging mother this year and all materials had been delivered," she said.
During the same period, Wambui had also donated Sh100,000 for a facelift of her home church, AIC Kandutura in Rongai, Nakuru. Since Wambui's death, her 64-year-old mother, Virginia Njeri has been in shock and unable to view the body of her slain favourite daughter.
"Our mother is hypertensive and has been avoiding viewing the body. It was until yesterday morning (Saturday) when one of her brothers convinced her to do so. She is in denial not believing Wambui is no more," she said.
The late Wambui had last spoken to her mother on January 26 when she confirmed that she would attend the burial of a relative in Rongai the following Tuesday