Matatu operators defy a ban on load carriers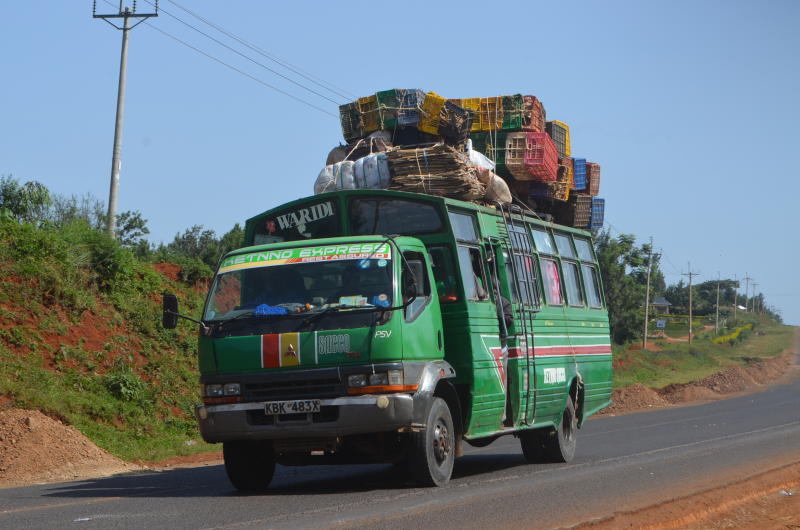 Some matatu operators in Mt Kenya region have defied a ban on carriers imposed by the Government over a decade ago.
The then Transport Minister John Michuki (now deceased) declared the carriers illegal and ordered all matatu owners to remove them.
This after it emerged that vehicles lost stability due to overloading, leading to fatal accidents.
A week-long survey by The Standard on the main roads within Mt Kenya region revealed that several matatu operators have fixed carriers on their vehicles.
Matatus plying Nairobi-Mt Kenya towns are the most notorious for flouting the traffic rule, according to the survey.
The giant Kukena Sacco management admitted that a few of its members had fixed carriers on their vehicles.
Sacco Secretary Alex Munyi said he was aware of one such vehicle, whose owner had fixed a full carrier to enable him carry as much luggage as possible.
"We have put on notice the concerned operator and if he does not remove the carrier, we will de-register him," said Munyi.
Change of command
It has also emerged there is change of command at the Traffic department, which operators might be taking advantage of.
The department has been devolved with respective county police commanders now assuming the enforcement role, through their respective traffic police officers.
Traffic Commandant Samuel Kimaru confirmed the new development, noting that anything to do with matatus should be referred to respective county police commanders for Kiambu, Murang'a, Kirinyaga, Embu, Tharaka-Nithi, Meru, Laikipia and Nyeri as well as Nairobi City.
Many commuters between Nairobi and Mt Kenya towns expressed concern over the trend.
John Ireri, a regular traveller from Embu County, said he had raised concerns with respective matatu saccos in vain.
The Regional National Transport Safety Authority no longer enforces traffic rules after its mandate was reduced to merely licensing.
"I am sure you no longer see our branded vehicles on the highways after we were stripped of the enforcement mandate, which was then handed over to traffic police," said Cyprian Michieka, a regional manager.