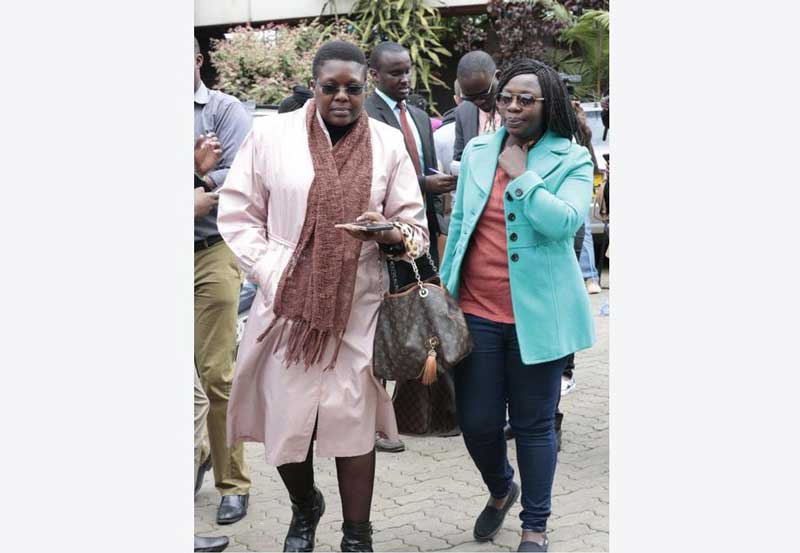 All Ali Abdi wanted was to be with his family in Nairobi when Ramadhan ends.
He initially intended to travel by road but changed his mind and decided to fly. He missed the morning flight but was on time for the afternoon flight from Kitale.
He even called his brother, Mohammed Abdi, at 3pm on Tuesday and gave him updates on his business venture. He told him that he wanted to be with his family during the Idd-ul-Fitr celebrations that mark the end of Ramadhan.
Mr Abdi told Mohammed he was already in Kitale town and that his flight would depart at 4pm. He told him he would join them for 'iftar' (breaking of the fast) at 6pm at their home in Eastleigh, where his wife and five children live.
That was the last conversation Mohammed had with his brother. He said the family was preparing to receive Abdi back home but he never showed up.
Esau Amollo, a taxi driver in Kitale, could have been among the last people to see Abdi board the plane that later went missing.
Five kilometres
Mr Amollo picked Abdi from Line Moja and drove him to the airstrip, five kilometres way.
"He called me around 2pm and asked me to drop him at the airstrip. It was raining then. I first took him to Ashal Petrol Station to pick his bag before heading to the airstrip," Amollo told The Standard.
Amollo said Abdi had told him he had planned to travel by road but changed his mind.
"He said he had urgent issues to handle in Nairobi," he said.
They arrived at the airstrip at 2.20pm. The flight he was booked on landed at 3.45pm with five passengers.
"I did not leave the airstrip immediately. I waited until Abdi and the other passengers boarded and the plane took off."
The taxi driver said he spoke to a passenger who told him how bad the weather was.
"Things are bad up there. The weather is terrible but these ladies (pilots) have tried. I thank God we have arrived safely," the passenger told Amollo.
He said the airstrip staff also expressed concern about the weather and the safety of the plane.
"They were doubtful the plane would make it safely to Nairobi," Amollo said.
He added that at around 7pm, a friend called to inform him that the plane Abdi had boarded was missing.
"I tried to ring Abdi but his phone was not going through. I reached his wife, who told me her husband had not arrived but she was expecting him," Amollo said.
Abdi's family continues to cling to hopes of finding him alive.
And they are not the only ones. Families of the 10 passengers aboard the plane yesterday streamed into the information centre set up at Weston Hotel on Lang'ata Road for any news about their loved ones.
"The authorities won't tell us anything yet people haven't stopped calling me. They're so scared and this is killing me," one of the relatives was heard saying.
Charity Wafula's pain was hidden behind big brown sunglasses as she spoke to the media. Tears rolled down her cheeks when she remembers her missing brother's son.
"Josiah and my brother (Robinson) were so close. The five-year-old boy is his only son," Ms Wafula said.
She said she had met Robinson on Monday, when he went home to check on their mother and his business.
"My brother was jovial as always. We never imagined any tragedy. We didn't have a last moment. I hope he's alive," she said.
"We are yet to receive any helpful updates. SAX Airlines say bad weather has complicated the search operation."
The FlySax-operated Cesna C208 aircraft, registration number 5Y-CAC, took off from Kitale airstrip in Trans Nzoia County at 4.05pm. It had eight passengers and two crew members.
The plane was expected to land at Jomo Kenyatta International Airport (JKIA) in Nairobi at 5.20pm.
Mohammed said Abdi had travelled to Lodwar where he has a hardware shop.
"He kept updating me about his business but said he was missing his family."
Chilly weather
At the airstrip, Amina Ahmed braved the chilly weather hoping to establish the whereabouts of her brother-in-law, Ahmed Ali Abdi, who was also aboard the plane.
"I was with him on Monday when he told me he wanted to travel to Nairobi to visit his family. Unfortunately, his phone is not going through. We have been left in the dark. We are asking the Government to update us on what is happening," said Ms Ahmed.
According to the rescue team mobilised by Kenya Civil Aviation Authority, Aircraft Accident Investigation Department and Kenya Wildlife Service, the aircraft was last seen on the JKIA radar at 17.20pm.
SAX Airlines CEO George Kivindyo said the aircraft was in good condition and the pilots had many years' experience.
"We do not have any update as at now. The East Africa Air Express has no knowledge of the location or condition of the aircraft or its occupants," he said, adding that they were waiting for updates from the Government spokesman.