Residents of Githunguri constituency say the roads are impassable when it rains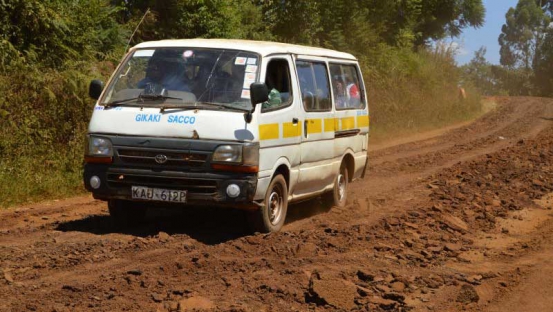 Residents of Githunguri constituency are up in arms protesting the poor road network, which has been in a poor state for years.
The roads become impassable for motorists, pedestrians and boda boda operators when it rains.
"It is worse when it rains and our motorcycles break down from time to time and we spend a lot money repairing them," said Sospeter Muriithi, a boda boda operator.
Mr Muriithi added that at times, they are forced to overcharge customers to mitigate repair charges.
"A short distance that normally takes you 15 minutes ends up consuming 45 minutes when it rains," said Muriithi.
His sentiments were echoed by Daniel Mwangi, a matatu driver on the Githunguri-Uplands road, which links the constituency with the Nairobi-Nakuru highway.
"This is not a road but a true shamba for which we have been promised tarmac for a very long time," said Mr Mwangi.
He said his passengers keep on complaining about the many potholes that make the matatu wobble from side to side.
The economy of the constituency is agricultural-driven. It also hosts the third largest milk production plant in the country, Githunguri Dairy Co-operative Society.
"We have tea, coffee, milk, kale and cabbage, which have a ready market in Nairobi. But due to the bad roads, we end up getting poor returns, as much of the money ends up in transport," said Esther Wanjiru, a farmer from Kiambaa.
Kabete MP Ferdinand Waititu, in the company of Ngewa MCA Karungo wa Thang'wa, on Sunday told residents to look for Governor William Kabogo and have him fix the roads. He was speaking at the Holy Rosary Church.
The county government has, however, launched an initiative to rehabilitate roads within Githunguri town.
Recently, when he toured Lari constituency, Deputy President William Ruto said the plands-Githunguri-Kwamaiko-Ruiru road was to be tarmacked by the Government.
Opinion: Raila's new push for inclusion questionable
A key plank of Raila Odinga's speech at the Centre for Strategic and International Studies (CSIS) in Washington DC last week was his assertion that, the drive behind his (or by and large NASA/NRM's) latest campaign is to end exclusion in Kenya. Can Raila Odinga, a billionaire, former Prime Minister, Member of Parliament for several years and son of Kenya's first vice president, in all candour truly claim that existing mechanisms are insufficient?