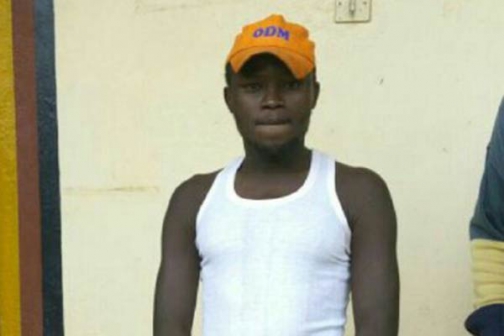 Meru, Kenya: A 28-year-old man who had clung onto a chopper carrying opposition leader Raila Odinga from Maili Tatu grounds in Meru County wanted to follow him in order to be given a job.
Destitution led Meru's 'James Bond', real name Julius Mwithalie into jumping onto CORD leader Raila Odinga's chopper when it took off from the crowded Maili Tatu stadium in the miraa-growing region of Igembe Central on Thursday.
Mwithalie who exhibited no signs of regret even as he was being held at the Maua police station confessed to the press that he had meticulously planned how he would get onto the chopper as it lifted off with the opposition chief.
He said he was a die-hard Raila adherent and was praying for his victory in the August 8 presidential election and had been prepared to pull off the daring antic and follow Raila to be given a job since he had no means to earn a living.
After hanging onto the chopper Mwithalie had the audacity to wave goodbye to the huge crowd below, believing he was kissing poverty goodbye for good.
Read More
"My plan was to get inside the chopper but I did not get a good opportunity to do that, so I opted to cling onto it. I am a poor man and desperately wanted Raila to give me a job as his supporter," Mwithalie said.
Mwithalie said he was scared stiff because of the strong winds that hit him while airborne but he summoned energy to hold onto the railing beneath the chopper.
"At one point I thought I would not make it and feared death. Fortunately those onboard noticed me and it flew to Athimba Primary School where I was lowered," he added, saying that he still was hopeful.