President Uhuru Kenyatta confesses of former First Lady's influence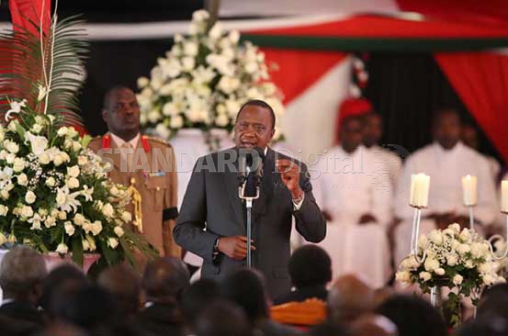 Former First Lady Lucy Kibaki was buried in style at her Othaya home yesterday in an elegant ceremony in which hearts were poured out, confessions made and heartfelt tributes given.
President Uhuru Kenyatta and his deputy William Ruto led mourners in acknowledging the overbearing influence of the former First Lady in former President Mwai Kibaki's 10-year presidency during the ceremony attended by an estimated 20,000 mourners.
In his short tribute, Uhuru fell short of publicly unraveling secrets of Mrs Kibaki's role at an undisclosed moment of history, and probably of the country's, which changed the course of history.
"I personally will never forget when things were very, very difficult for me, very difficult. I will never forget how she stood very firm even when other people thought otherwise. If it were not for her, hii dunia ingekuwa ingine (this world would have been different)," Uhuru told mourners with a characteristic wry smile suggesting a longer, deeper story.
The President was making the confession in a follow up to Lucy's own first born son, Jimmy, who went to the same school with him, and who had given candid accounts of how her mother upset overzealous State House bureaucrats in 2003.
Jimmy also told the mourners how an Irish priest at St Mary's School kept caning him every Friday and suggested that the President must have suffered a similar fate. Uhuru said since Jimmy had already told all his little secrets he was not sure which other one was left.
"The story of Lucy is a wake-up call to us men who take pride in ourselves yet more often than not the truth is that it is the strong women behind us who are the real pillars. It is a call on us to respect and recognise them," President Kenyatta said.
To Kibaki's face, Uhuru said Lucy was so strong and independent-minded that she publicly contradicted him (Kibaki). He celebrated the contradictions of Lucy as the hallmark of our democracy.
Before him, Ruto had also told mourners of Lucy's role in his political bond with the President. He said before she left State House in 2013, Lucy looked for him and told him to work with Uhuru. "That is why I am the Deputy President of the Republic of Kenya today," he said to cheers of an excited crowd.
Ruto said upon entering State House in 2002, Lucy dispatched into inflation the careers of brokers, hypocrites and pretenders who used to hawk power in corridors of power.
Ruto himself had been a powerful figure in the pre-Kibaki Cabinet and would have been privy to those schemes.
"Before 2002, many Kenyans, myself included, thought a First Lady is there to be seen and not heard. Lucy was able to turn that around and make us know that she was there to be seen and heard.
Impossible to ignore
In fact, she made it impossible for us to ignore her and went on to become a person of influence in the Kibaki presidency," Ruto said.
Senate Deputy Speaker Kembi Gitura said both houses of Parliament will strive to implement the Constitution to the benefit of the underprivileged in honour of the former First Lady. He referred mourners to a photo of the former First Lady dancing at the 2010 promulgation of the Constitution: "It was excitement, hope and fulfillment all bound into a beaming face. She had worked so hard in 2005 before and then in 2010," Gitura, who spoke on behalf of elected leaders present at the ceremony said.
Gitura also decorated the late Lucy as a "strong-willed personality who stood against the establishment and the Executive" in defense of the underprivileged and the lowly in life.
But it is Jimmy's tribute which brought out the true character of the departed former First Lady. Jimmy told mourners how his mother told off a State House official who had demanded that Kibaki's children seek an appointment with their father when he became President in 2003. "She called a meeting the following day and informed them in a forthright manner that as long as she was alive none of her kids would have to book an appointment to see their own father.
When she was done, she asked them whether she had made herself clear and whether anybody had a question." "She would go to any length, climb any mountain because of her family," Jimmy, the eldest of her children said.
For the first time in public, Jimmy revealed that it was his late mother who saw into his political forays in Othaya in 2013. He said Lucy told her he did not have to become area MP to work with the people. Besides, the proud mother told him that the values she had instilled in him were incompatible with the practice of politics.
All the other children - Judith, David and Tony also paid glowing tributes to their mother as a strong pillar in their lives. Lucy's childhood friend Bella Nderitu said the late Lucy was equally protective of her husband.
"Who would dare touch this man (pointing to Kibaki); after her, I do not know who. You would be in a lot of trouble," she said to laughter of the mourners. Archbishop Peter Kairo of Nyeri Catholic Diocese celebrated the funeral mass. In his brief, to-the-point homily, Kairo said the late Lucy lived a life of compassion. He asked mourners to emulate her virtues for they neither know the time nor the hour of their demise.
Persevered pain
"The summary of her life is a lesson on compassion and perseverance. She persevered the pain of illness for many years until her demise," Kairo said.
After the funeral service at the Othaya Approved School grounds, Lucy's body was taken to her final resting place in Kanyange village three kilometres away. The final burial rites were performed in private under the watchful eye of close family members and invited dignitaries.
Van Gaal admits he's Arsenal fan
Louis van Gaal has insisted Manchester United are still in the hunt for a top four place after beating Norwich 1-0 at Carrow Road.