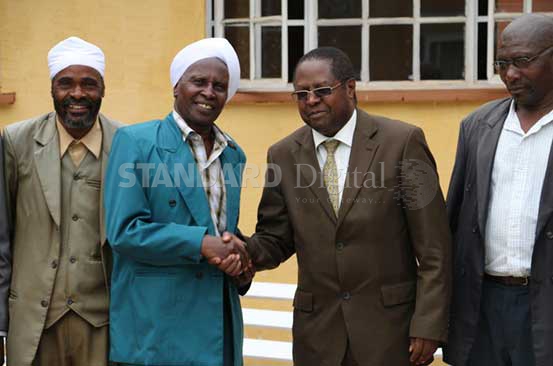 Embu Governor Martin Wambora has blamed stalled county projects on the National Treasury's delay in releasing development funds.
Mr Wambora said some flagship initiatives had ground to a halt over the last four months while the pace of completion of others was slow.
Speaking to the Press at the county headquarters after signing four bills into law, the county boss said they rely on development partners to provide basic services to residents.
He said the World Bank was constructing a Sh280 million storm-water drainage system in Embu town and its suburbs.
Wambora further noted that a court order that stopped the assembly from implementing a supplementary budget of Sh806 million had halted county operations.
Read More
The High Court in Embu stopped the construction of a Sh335 million multi-storey assembly office complex after two residents moved to court saying it was not a priority.
A substantial portion of the budget was to be used to construct the complex, making it difficult for the assembly to discuss the supplementary budget.
Wambora said the court had now allowed the assembly to discuss the supplementary budget so that the money could be diverted to other sectors, saying the money would be availed by next week.
road works
"The Sh806 million will be used to complete the construction of ongoing road projects such as tarmacking of Dallas and Runyenjes roads before the start of the El-Nino rains. We have also asked the World Bank to complete their ongoing storm-water drainage project before the rains start," he said.
He said they are sourcing for funds from development partners to complete the construction of the Embu Stadium and install streetlights along major roads in the town.
Among the bills he signed into law are the County Public Participation, County Symbols, County Public Appointment and Approval, and County Access to Information.
Meanwhile, Embu Speaker Kariuki Mate has warned county executive members who fail to respond to statements sought by MCAs because of their absence.
He said government offices did not close shop whenever an officer was away on personal or official engagement, adding it was unfair for the county executives to halt business.
"No public office should shut down in the absence of their bosses. The committees should devise mechanisms to generate answers in the shortest possible time," he said.
He was reacting to a request for the postponement of committee responses to statements because the CEC members responsible were out of the country.