Kiambu governor William Kabogo says unmarried people should not contest elections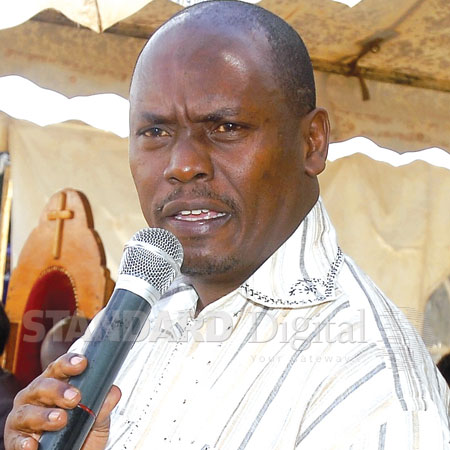 Governor William Kabogo. [PHOTO: STANDARD/FILE]
By ERIC WAINAINA
KIAMBU: Governor William Kabogo has said single people should not be allowed to contest elective positions, saying they do not have leadership qualities and values.
Mr Kabogo said while making an entry into politics, interested candidates should first show their spouses to the public. He caused a stir when he said that unmarried women who are over 35 years of age have a problem.
"You young ladies who are not married, please find men and get married for it is because of this reason we are having problems all over (referring to leadership) yet men are all over," he said.
He added, "We will be asking any woman who wants to be elected to bring her husband and any interested man to bring his wife and I will now be going around with my wife.
Kabogo said it is impractical for a single person who has not even been able to take care of a home to lead a nation.
The governor made the remarks as he fired salvos against Thika MP Alice Ng'ang'a, accusing her of sponsoring the ongoing protests against increased levies by the county government.
Mr Kabogo who spoke for the first time over the demonstrations that have rocked the county said the MP and losers in the last gubernatorial election have been financing goons who hold the protests, and demanded for their arrest and prosecution.
Ms Ng'ang'a and Juja MP Francis Waitutu joined traders in a protests that ended up in running battles in Thika town.
He said despite the unrests that have been condemning his leadership, he will soldier on and deliver his promises, but said that he will deal with anyone who crosses his line.
Over the proposed rates, he maintained that levies must be paid if locals want development and quality services from his government.
A tough talking Kabogo accused area MPs of being trouble makers. Some MPs have said they will sponsor his impeachment through collecting signatures, but said he will not be shaken and that he has no time for their petty politics.
Speaking at Kangoya village in Kiambu sub-county while launching a water project, the governor said he does not care whether he will be a one-time governor, but he will assure that development take place.
"Am not an MP to engage in a war of words with them. The public gave me this job and a governor cannot be sacked through a mere signature. Let us work and if you do not know your job, just say and you will be taken through some orientation," he said.
He said the MPs are ever attacking him to keep the minds of the electorate politically occupied so that they cannot be questioned on how they are utilising the Constituency Development Fund in their respective areas.