Four poachers killed, two tusks recovered in Mt Kenya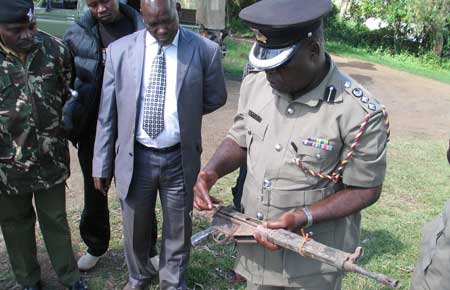 Nyeri OCPD Kirunya Limbitu holds a rifle recovered from two poachers shot by KWS officers in Solio Ranch [Photo:John Gathua]
By Job Weru and Patrick Muthuri
Four suspected poachers were shot dead in Mt Kenya region as the Kenya Wildlife Service stepped up fight against poaching of the endangered black rhino species.
KWS rangers shot dead the suspects at the Meru National Park and at Solio Conservancy in Nyeri County and recovered two rifles and 54 rounds of ammunition early Thursday morning.
Acting Head of Mountain Region Conservation area Mr Aggrey Maumo said two poachers were shot at 3 am on Wednesday at Solio Ranch, which is a private conservancy, after they entered into the electric-fenced sanctuary.
Solio ranch is home to hundreds of the endangered black rhino as well as the white rhino.
Maumo noted that the gang of three shot and injured one rhino, before KWS rangers and ranch workers spotted them.
"They tracked them and a heavy exchange of fire ensued. Two poachers were shot dead and a G-3 rifle loaded with seven rounds of ammunition, a sword and pliers recovered. The third suspect escaped," said Maumo.
The KWS officer said veterinary officers were treating the wounded rhino.
Maumo said the poachers are believed to be from the neighbouring Solio and Narumoru areas.
In Meru National Park, an AK-47 rifle, 47 rounds of ammunition, two ivory tusks and two axes were recovered from two suspects who were shot dead.
Meru National Park Senior warden William Kiptoo said one of the poachers was killed on the spot, while another escaped with bullet wounds but died.
"I appeal to the residents living near the park to give information when they trace suspicious people near the park," he said.
Security operation commander in the Meru Conservation area Peter Lokitela said they are still tracking the poachers who escaped during the shootout.
"Poachers have killed several elephants in the Meru conservation area. We have managed to arrest some of the suspects. Poachers should be warned that they will face the full force of the law," Lokitela said.