By Fredrick Obura
President Kibaki has directed speedy completion of the multi-billion shilling expansion of Jomo Kenyatta International Airport (JKIA).
Kibaki said any further delay of the new airport terminal was likely to hurt other development targets linked to Vision 2030 development goals.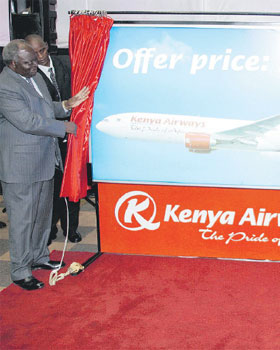 President Kibaki (left), unveils KQ Rights Issue share price when he officially launched the offer at KICC, Nairobi. With him are the KQ board Chairman, Evanson Mwaniki (right), and Titus Naikuni, the airline's Managing Director and Chief Executive Officer.

"I am calling upon the ministry and the authorities in charge to move fast and complete JKIA expansion project. It would help the airport become a hub of choice and compete well with others within and outside the continent," he said.
Read More
The expansion of the Jomo Kenyatta international Airport is expected to enable the facility handle nine million visitors per year by 2013, up from the current 2.5 million.
It would further see the construction of a new terminal as well as a multi-storied garage to handle the excess traffic anticipated in the next two years, as tourist numbers continue to rise.
In June 2010, the Kenya Airports Authority (KAA) received a loan of Sh15.5 billion for the expansion of the international airport.
"We cannot afford further delays, and we need to move with the rest of the world," he said.
Kibaki suggested that the authorities could explore other options including working with the private sector to fast track the expansion.
The head of State was speaking during the launch of Kenya Airways right issue in Nairobi yesterday.
Speaking during the launch, Evanson Mwaniki, the airline's chairman also warned that any delays in JKIA's expansion would jeopardise the airline's ambitious growth strategy, which involves growing its fleet.
KQ growth plan involves fleet expansion and growth of destinations. Under the new strategy, KQ will increase its passenger fleet from 34 aircrafts in 2011 to 107 in 2021 and grow its cargo fleet by 12 aircraft.
"We have new planes on the way and thus the need for expansion, the airport in its current state is of no much help. Further delays would adversely affect our expansion plan," explained Titus Naikuni, the airline's chief executive.
The Airline yesterday launched its Sh20.7 billion rights issue to raise additional capital for expansion. Proceeds from the rights issue is expected to fund its ambitious 10-year expansion plan dubbed Project Mawingu.
The project would see the airline increase its destinations from 56 to 115 by 2021.
According to the rights issue timetable, investors can buy the shares on offer at the Nairobi Securities Exchange between April 2 and 18. The offer runs to April 27.
The President urged local investors to take up new investment opportunity offered by the rights issue to help build the airline and make it competitive both in the region and Internationally.