Fought for his country, left in grip of poverty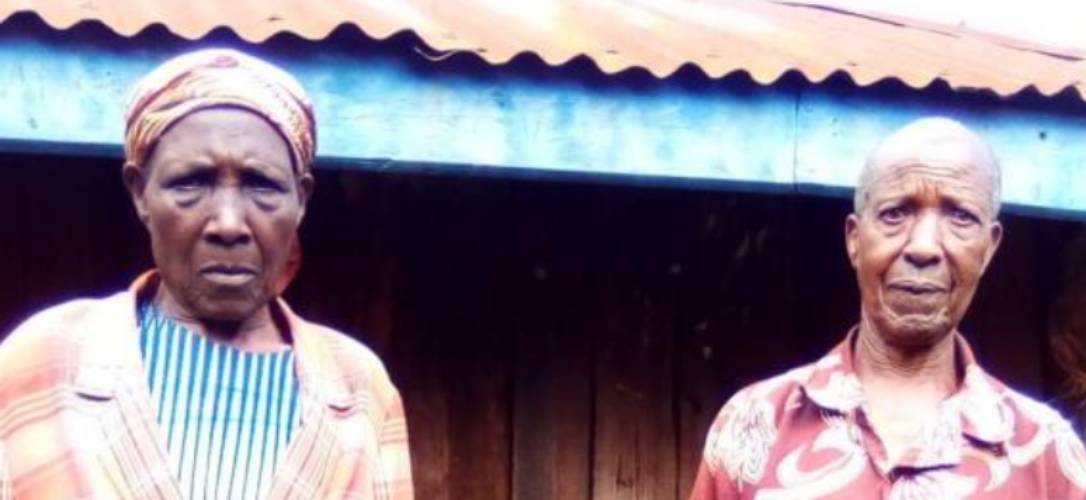 The slopes of Mt Kenya and the Aberdare embrace and merge akin to Siamese twins in their mother's womb.
They are similar in their verdure, beauty and profusion of life, a phenomenon abundantly manifest in the fauna, flora, fresh air and springs, fountains and brooks that coalesce into rivers, including the mighty Tana.
Like conjoined twins, the slopes share a common profile. They were the preferred hideout for Kenya's gallant Mau Mau fighters who bravely battled colonialists to liberate the nation for posterity. Some of these brave fighters are still alive today, albeit with little or nothing to show for their sacrifice.
They quintessentially are heroes forgotten and forsaken by the very nation they liberated through so much pain and anguish. Most are navigating their twilight years in abject poverty, bereft of everything but fresh air and water that though dwindling under climate change, still trickles down the slopes.
Land grabbed
Eighty-five-year-old Milton Munene Gacau, popularly known by his bush name of 'Judge' by dint of his relatively high level of education – having gone to school to junior secondary level when he joined Mau Mau in 1953 – is a living testimony of that neglect.
He returned home in 1959 to find all his family land gobbled up because colonial authorities had decreed that fighters, who failed to surrender in exchange for amnesty when the state of emergency was lifted in 1955, be denied land ownership and any form of freedom. Chiefs religiously enforced the decree.
When he was lucky to get a job in the civil service and bought a piece of land in the neighbourhood of his ancestral home, a powerful senior civil servant who hailed from the area used his influence and financial muscle to wrest it from him and instigated his termination from service, besides ensuring that he was an outlaw in Nairobi.
"I had worked for less than five years when I was surprisingly retired in public interest in 1973. In what felt like a thunder strike shortly afterwards, orders came from the director of criminal investigations, a Mr Ruingu, that I must not be seen in Nairobi. I was given a security officer to escort me home to Kirinyaga, but he was friendly and took me to Machakos instead," recalls Gacau.
He says he was among those fighters who had taken an oath never to surrender. "I remained in the forest until I was captured in 1956 and taken first for rehabilitation in Yatta then direct to detention in Hola where I remained until 1959 when detention camps were closed," he says.
Among his contemporaries at the notorious Hola detention camp, where 11 detainees were bludgeoned to death in a horrific massacre on January 3, 1959, were Muinga Chokwe, a founder of the Kenya African Union (KAU) from the Coast, Waira Kamau, the first MP for Githunguri Constituency at independence, John O'Washika, a colonial era court clerk, and Romano Gikunju Njamino, the first senator of Kirinyaga, to mention but a few.
Bloodbath
Gacau says he was in the contingent of detainees deployed to dig canals at the Bura Irrigation Scheme when the bloodbath happened.
"The colonial guards rounded up about 80 hardcore individuals who refused to work and mercilessly brutalised them as we watched. Apart from the dead whose bodies were loaded on a tipper and driven away for burial at the camp, many were maimed and hospitalised with serious injuries," he recollects.
Before Bura, Gacau was in the squad that built the Hola District Hospital at Laza, only a few kilometres from the detention camp. "We worked like slaves, amid beatings at the whims of the guards with little to eat. We led a donkey's life, literally," he says.
When he returned home from detention in August 1959, he joined Kanu to continue with the struggle against colonial rule. He was elected chairman of the party in Kabare Location while his fellow Hola detainee Romano Njamino was elected the Embu District Kanu branch chairman. Present day Kirinyaga County was then part of Embu.
Gacau worked in his brother's farm and just as he had done in detention where he sensed free moments to study by correspondence through British Tutorial College, he continued honing his education. "I combined my studies with teaching my fellow detainees at Hola. Njamino was among my students," he recalls.
Gacau says Njamino saw his education getting wasted in the village and recommended him for a job in a Kanu newspaper run by Pio Gama Pinto in Nairobi.
"I was 27. Pinto, a close ally of Jaramogi Oginga Odinga, recommended that I be considered for scholarship to further my education overseas. It was the time Tom Mboya was airlifting students to the west while Jaramogi was doing so to the East.
Unicef, through the Odinga-Kanu wing, awarded him a scholarship in Czechoslovakia.
Forlorn picture
Gacau says he spent seven years at Prague University where he majored in economics and social studies after studying the Czech language.
"I secured a job as a trade officer in the Ministry of Commerce and Industry immediately on my return to Kenya in 1969," he says.
"My monthly salary was Sh1,300, a substantial sum then. The seven-acre piece of land was to cost me Sh13,000 that I had nearly completed paying. I had 2,000 tea bushes on it by the time the title deed was diverted after the powerful man offered more money. I was terribly devastated and have remained landless since," laments Gacau.
His brother gave him less than an acre of land on which he built a semi-permanent house in 2000.
A few tea bushes, a cow, some chicken and a cat complete the forlorn picture of what Gacau and his wife of 66 years, Eunice Wambura, call home as they tiptoe to their sunset together.