Little to show for Sh500m spent on ailing meat plant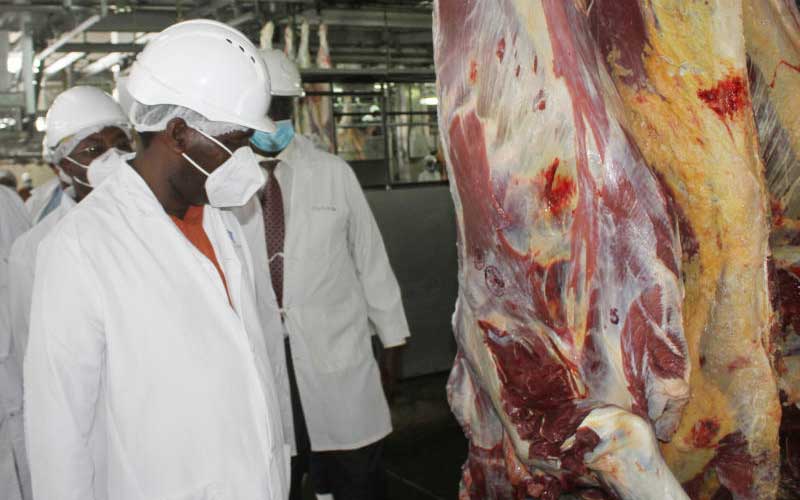 The government has spent Sh500 million to revamp the Kenya Meat Commission (KMC) plant in Athi River.
Speaking during a tour of the facility yesterday, Agriculture CS Peter Munya announced that another Sh300 million will be spent as capital to revive the ailing parastatal.
The CS admitted that modernisation work at the Athi River plant started two years ago had stalled due to challenges with the contractor. The work has since re-started with Munya vowing to see it to the end.
"We will not entertain any further delay; we will be back here in August to see what the contractor has done," he said.
The CS said the government will seek partners from the private sector to ensure that the plant does not shut down.
"We believe this is a very strategic asset and we cannot let it go. After revamping it, we will consult on how to work with the private sector so that the plant remains afloat," he said.
The CS also hinted that KMC would lease out some of its properties such as idle land to generate more money to run the plant.
He announced that the plant's suppliers, who have not been paid for the last three years, will be paid next week.
"We have been facing a major financial crisis which made it hard to pay our suppliers. However, the money is ready now, and we are in the process of verifying payment claims," said Munya.
Unpaid herders
Groups of herders have been storming KMC plants demanding payments amounting to Sh380 million for supplying livestock. Many have since stopped supplying the firm with livestock due to non payment.
The KMC was re-opened in 2006 with the government targeting to promote the meat industry for both the domestic and export markets.
Its under-performance has been attributed to lack of funds to revamp plants that still run on ageing machines and reluctance by government institutions to support the firm by purchasing meat from its plants.
The firm is currently facing operational challenges that have seen production plummet.
At the peak of its operations, the Athi River plant slaughtered 500 animals per week. The figure has now plummeted to 50 animals.
During the visit, Munya also announced mass livestock treatment, deworming and vaccination targeting more than 18 million cattle, 26 million goats, 18 million sheep, and 2.2 million camels countrywide.
The treatment and vaccination aims at eliminating foot and mouth, Rift Valley fever and bluetongue diseases.
Calling on counties to commit more money to the sector, Munya said the government was keen to promote livestock keeping by securing foreign markets for farmers.
"At least 90 per cent of the population within arid and semi-arid areas depend on livestock products including meat, milk and hides, therefore there is need to develop strategies to protect the animals for the benefit of our people and the economy," he said.