If done right, poultry farming can be very lucrative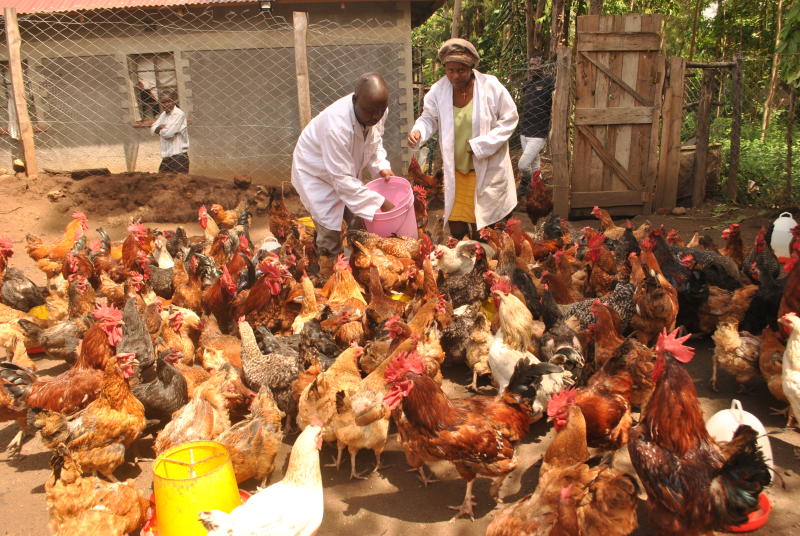 Whenever Fredrick Makokha visited his late mother, Penninah Aswani, she would prepare for him chicken stew accompanied with ugali. That was until her passing on in June, last year. To keep her memory alive, Makokha decided to rear chicken from his garage so he would have enough birds to feed his family and sell others.
Makokha, who hails from Maondo village, Eshiyunzu location in Kakamega Central Sub County, bought one-month-old 50 indigenous chickens and started rearing them from his garage. But after three months, he had slaughtered all of them.
In August last year, his wife, persuaded him to fully venture into poultry farming. As a result he bought 600 rainbow rooster day-old chicks, from a friend in Eldoret. A month later, he bought another 600 chicks from the same supplier. He named his venture, Pen Chick Poultry Farm in memory of his mother. "I converted my mother's house into a poultry house. I also erected more structures in the compound to accommodate all birds."
After the chicks turned seven days old, he administered gumboro vaccine, and re-administered the Newcastle vaccine after three weeks following an initial vaccination to the day-old chicks. At four weeks, he vaccinated them against bronchitis. The 1,200 chicks were bought at Sh100 each.
Feeding programme
For the first 14 days, he fed the chicks on at least 13 grams each of chick starter since it's rich in proteins and vitamins that enable them grow at a faster rate and for strength. After 14 days, he fed them on 18 grams of chick mash and 120grams each chickmash once they turn two months.
He also gave the day-old chicks liquid paraffin - not the normal paraffin - to help in clearing and softening the digestive system in preparation for feed ingestion. As it is a laxative, it also prevents constipation which leads to death in small chicks as they are not used to digesting solids.
In administering the liquid paraffin, he drops about 2 drops, but not more than 5 drops, in 20 litres of water. Since the liquid paraffin is not soluble in water, it will spread to form a thin film, and the chicks will consume it as they take the water.
"After one week, I changed the feeds to chick mash which I fed them for two months and then started introducing growers' mash in small portions. They fed on growers' mash for another 12 weeks until we started seeing the first eggs five months later, after which we changed feeds to layers' mash," said Mr Makokha.
He also feeds them with sukuma wiki, amaranth and cabbages for yellow pigmentation in the egg yolk and to add taste to the birds reared for meat.
Water
"Chicks should take warm water reduce mortality caused by pneumonia," said Lilian Ayuma, Makokha's wife. Birds are made up of 65 per cent of water which is ideal for their metabolism, adding that water controls their body temperature, the rate of food they digest and their body waste. Each bird should consume at least 0.5 litres a day.
"If your birds don't have access to supply of fresh and clean water, they will stop laying eggs for several days. Chickens without water won't have much of an appetite so they won't grow as big especially if you are rearing them for meat".
Sales
On a good day, he collects between 800 and 1,500 eggs which are already fertilised and sells each at Sh20 and a tray at Sh600.
"The money from selling eggs enabled me to buy an incubator with a capacity of 1,056 eggs at Sh90,000. I now hatch my own chicks and sell them in Bungoma, Busia, Kisumu and Vihiga," said Makokha.
In the past five months, he has collected 135,000 eggs. Quick math shows that at a cost of Sh20 per egg, he has made Sh2.7million in sales. "Poultry business is lucrative compared to being a CEO of a company," he says.
"A one-day-old chick retails at Sh100, a 2-week-old at Sh150, a four-week-old at Sh250 and a two-month-old at Sh450. I am now able to fend for my family and pay school fees. My stock has risen to 3,000 birds and by the end of this year, I will be having between 6,000 and 10,000 birds."
"An 8-month cock which serves between 5-8 birds is sold at Sh1,500 and a hen at Sh900."