Early Easter as leading manufacturer clears Sh2.2m hospital bill for 50 patients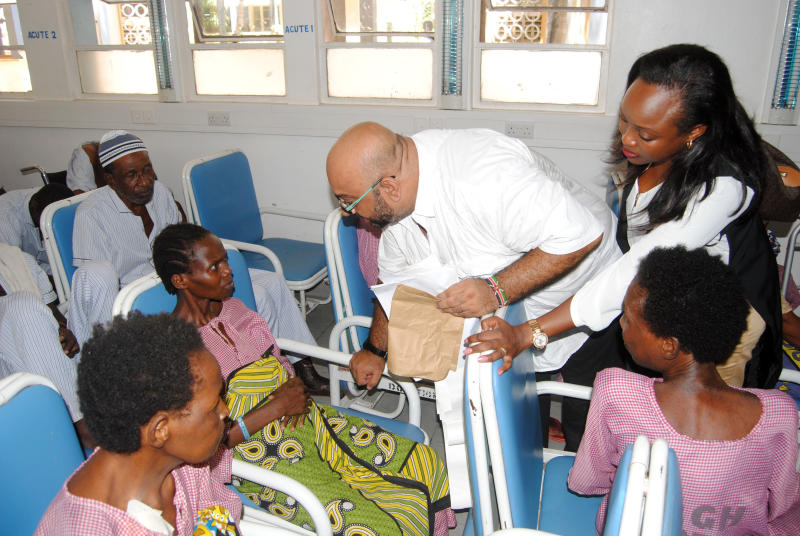 It was early Easter present for over 50 patients who had been holed up at the Coast Provincial General Hospital, Mombasa, after their accumulated medical bills that stood at Sh2.2 million was cleared by a Mombasa based manufacturing conglomerate firm.
Mombasa Cement and Corrugated Sheets Companies cleared the outstanding bills last Friday leading to their discharge. They had been detained since 2018.
The patients broke into jubilation when Mombasa County Government and hospital authorities gathered them and asked them to pick up their belongings and go home after the firm cleared their bills.
The patients have been struggling with the bills for as long as August 2018 after being treated for various ailments.
Silvester Mbaji Kaulu, a peasant farmer from Kaloleni area in Kilifi County, said he was excited that his Sh120, 000 bill accrued since November 2018 had finally been cleared.
"I had a bill of Sh120, 000 after undergoing two surgeries in this hospital and I could not settle it. Because of my health condition I have moved from Kaloleni to Likoni and I was unable to raise money to settle the medical bill," Kaulu said.
Another patient, Kithi Tsofwa who was in the hospital since August 21, 2018 had been slapped with a Sh199, 736 bill.
An orphan, Victoria Njoki, said she had been sick for months and had lost hope of ever leaving the hospital since she had a Sh100,000 bill to clear.
Anthony Nthei was also stranded in the Coast region's main referral hospital over a Sh120, 000 bills.
Lawrence Talia was admitted at the hospital in March had the lowest bill of Sh13, 155.
Mombasa County Executive for Health Hazel Koitaba said they were facing serious challenges in the provision of quality medical services because 15 percent of the 1, 500 patients admitted at the facility monthly could not pay their bills forcing the county government to waive them.
"Every month the county government is forced to waive medical bills amounting to about Sh 5 million. This has undermined efforts to provide quality services. We have reached out to partners to assist in clearing the medical fees," she explained.
Koitaba who was flanked by chief officer medical services Dr. Khadija Shikely and the hospital chief administrator Dr. Iqbal Khandwalla appealed to corporate entities to assist patients settle their bills at the hospital.
Corrugated Sheets and Mombasa Cement representative Mr. Samir Bhalloo said chief executive officer Hasmukh Patel had directed him to pay the bills and free the patients so they could join their families.
"Our CEO has asked us to clear the bill as part of our corporate social responsibility. He wants to help humanity. It is his desire that the patients are able to join their families. We built a wall round the hospital and paid mortuary bills recently," he explained.