Ministers grilled over dams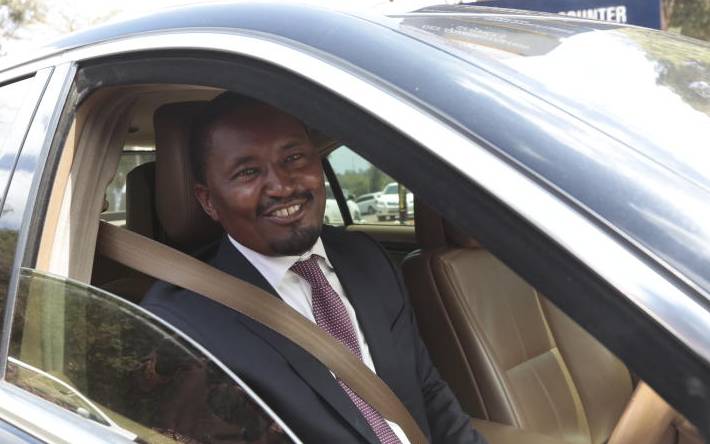 Two ministers were yesterday questioned over the awarding of multi-billion shilling tenders to build two dams.
Agriculture Cabinet Secretary Mwangi Kiunjuri reportedly told investigators he was kept in the dark when the deals were being signed during his tenure at the Devolution ministry.
Sources said Mr Kiunjuri even singled out one deal that he said he only later learnt had been signed in his boardroom at Treasury Building.
Kiunjuri and his Devolution counterpart Eugene Wamalwa were being grilled at the Directorate of Criminal Investigations (DCI) offices in Nairobi over the awarding of Sh65 billion tenders for the construction of Kimwarer and Arror dams.
Kiunjuri served in the Devolution docket between 2015 and January last year, before he was moved to the Agriculture ministry. He was replaced by Mr Wamalwa, who had been Minister for Water and Irrigation for three years.
Yesterday, Wamalwa arrived at the DCI headquarters at about 9am and left two hours later. He did not talk to journalists camping outside the DCI offices on Kiambu Road.
"Today I recorded a statement at DCI on the Arror/Kimwarer dams' probe where I clarified that they were not under my jurisdiction. I urge Kenyans to support the ongoing investigations and the fight against corruption by our agencies," Wamalwa later said in a tweet.
Kiunjuri drove into the DCI headquarters at 11am and told journalists he was worried about his reputation due to the persistent negative publicity surrounding the investigation.
"I am ready to respond to all the queries, but these allegations coming from maize, fertiliser and now dams are damaging reputations. I don't know if I am being unfairly targeted," he said as he walked into the interview room.
The CS walked out after half an hour and said he had told the detectives what he knew. Later, in a personal statement, Kiunjuri protested at what he said was an attempt to portray him as a prime suspect.
"My very honest question and one that my family, friends and supporters are asking is this: Why am I being taken through this painful journey? Why does there appear to be an effort to create a perception in the minds of Kenyans that I am a prime suspect?
"My regrets are that this is happening in a country that has one of the most reputable intelligence services in the world, capable of providing reliable and actionable intelligence to assist the DCI with information on who should be treated as a suspect and who should be treated as a witness," Kiunjuri said.
Kerio Valley Development Authority (KVDA) Managing Director David Kimosop was also grilled for the second consecutive day on what investigators said were "emerging issues".
KVDA, the implementing agency for the construction of the dams, was under the Devolution ministry at the time the contracts were awarded.
Those who signed off on the April 2, 2017 deal were Italian companies CMC Di Ravenna and Itenera, the National Treasury and KVDA.