Sex workers on average get three customers a day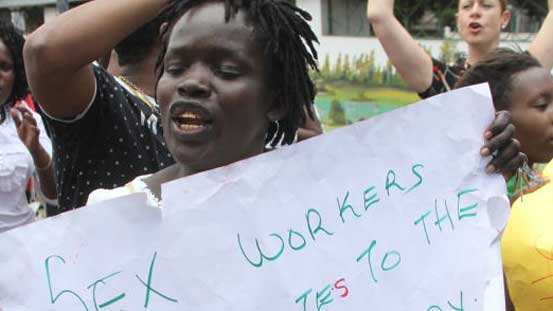 NAIROBI, KENYA: Many Kenyan bachelors find it cheaper and convenient to buy sex on the streets.
National Aids and STIs Control Programme (Nascop) says there are slightly over 200,000 active sex workers nationwide. However the Bar Hostess Empowerement and Support Programme (BHESP) executive director Peninah Mwangi says the number could be as high as 400,000 sex workers.
"What Nascop has are the sex workers in the streets, the ones you can easily recorgnise. But many more are working incognito. They are engaged in one form of employment or another, but also parttime sex workers. That is why we believe this number is almost double what the government has," says Peninah.
It is estimated that on average, the active sex workers get three customers daily and more than five during weekends and holidays. This means that if slightly over 200,000 sex workers are active everyday with an average of three customers, then over half a million men sleep with these night nurses every day.
If each of these men pays Sh100 for sex, sex workers could be strutting all the way to the bank with a cumulative Sh50 million daily.
"It is true that over 500,000 men get serviced by sex workers every day. Besides what we see on the streets, there are those masquerading as salonists, bar workers, beauticians and masseuses, while others are college and university students and office workers. Many sex workers operate in the shadows, meaning government statistics are not accurate," she explains.
Peninah's organization handles provision of health services to female bar workers and sex workers. She reveals that more women who sell their bodies undercover open up to and rarely to government agencies.
"We have clinics specifically for them, and many who operate incognito come for our HIV testing and other services, including disabled ones whom operate from homes."
"Others seek our services secretly, so when I say we have close to 400,000 sex workers in Kenya, it is true," she adds
Nascop's Key Population Manager Helgar Musyoki says they distribute 20 million free condoms monthly, while on ther hand LVCT distributes one to 1.5 million free condoms within Nairobi County every three months.