Farmers to earn less as sugarcane prices drop again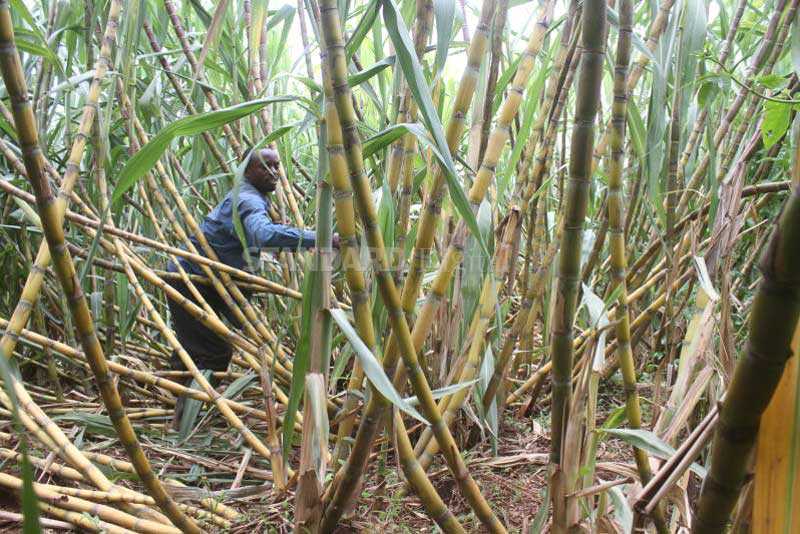 Sugarcane farmers have suffered a huge blow following a drop in prices from Sh4, 200 to Sh3,700 per tonne.
The National Cane Pricing Committee that consists of representatives from Ministry of Agriculture, Agriculture and Food Authority (AFA) and farmers this week announced the price review that is expected to take effect immediately.
AFA Director General Alfred Busolo said the price change was caused by an avalanche of cheap imports into the local market.
Farmers interviewed termed the changes in cane prices unfortunate and a major setback.
Wycliffe Barasa Ng'ong'a, a farmer from Busia County, said news of price drop had hit him hard.
"We thought the cane pricing committee would ensure the prices continue to increase for the good of farmers who incur huge production costs," said Mr Ng'ong'a, who has been growing sugarcane since 1999.
Mr Ng'ong'a said he had been spending slightly above Sh100,000 on developing sugarcane on his farm.
"I have over 10 acres under the crop. It will be difficult to recover the money I invested in the crop following the drop in price," he said.
State censured
And Kenya National Federation of Sugarcane Farmers Deputy Secretary General Simon Wesechere has censured the State for allowing traders to import sugar at the expense of the local sugar sub-sector and particularly farmers.
Traders and millers imported 300,000 tonnes of the commodity in August alone ahead of the August 31 expiry of the duty-free window for importing sugar.
Busolo had indicated that imports were not supposed to have gone beyond last November, arguing that importers who shipped in the commodity past that date did it against the law.
He said deadline for importation of sugar was published in the Kenya Gazette and AFA had no authority to have it extended.
"Sugar factories were given the green light to import sugar by Agriculture CS Willy Bett and they took advantage of the window to ship in over 900 metric tons of the sweetener, flooding local market with cheap imports," said Mr Wesechere.
According to Wesechere, imported sugar is retailing at the same price as locally produced sugar, makes it hard for local sugar factories to offload their stocks.
He said importers were making a killing by selling a kilogramme of the imported sugar at Sh150.
"It is not only exploitative but a disaster in the sugar sub-sector. The Government is fleecing its own farmers and indirectly killing the domestic industry by decreeing cheap imports," said Wesechere.
A drop in the price of the cash crop only adds to the sufferings sugarcane growers have had to go through.
Worsen things
Wesechere said it could make things worse for the millers in terms of availability of raw materials as most farmers may abandon the crop.
"Something must be done before the industry is plunged into unending crisis once again. Players in the sub-sector must approach the issue of cheap imports, punitive taxes and high production costs with a sober mind," he said.