Firms raise job prospects for young graduates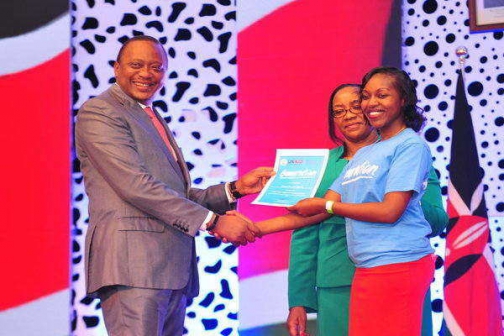 After graduating in 2014 from the University of Eldoret, Annet Wamalwa hit the ground running looking for a job.
"When I enrolled for a diploma in business management, I had set my eyes on the banking industry," she says.
Her course choice was, therefore, strategic, but as she was soon to discover, like many new graduates in Kenya do, jobs don't come your way just because you have your name on a college certificate.
"I applied for one job after another, but I never got even a call for an interview. It hit me that some of the people I was competing with for job positions were master's holders with a lot of experience," says Ms Wamalwa. But then she read about a life-changing mentorship programme by Mckinsey and Company.
"It was a six-week programme for those who had at least graduated from high school. I had tried and failed with job applications and I needed to find out what else I could add to my portfolio to increase my career prospects," says Ms Wamalwa.
Dubbed "MSI Generation Kenya Project", the programme proved to be exactly what she needed if not what she was looking for.
Generation programmes prepare unemployed or underemployed young people, aged 18 to 29, for jobs in healthcare, technology, retail/sales, and skilled trades.
Offer Internships
It connects applicants with employers in the relevant fields.
"There are skills that every job seeker needs to have. I doubt we acquire those skills while in college," says Ms Wamalwa.
She completed the programme on May 6 and got employed on May 19 at NIC Bank's Upper Hill branch.
Thanks to the programme, she now has a job that she previously struggled to get hold of because of her inexperience.
Experts say various reasons make the Kenyan job market difficult to navigate for new graduates.
Plal Chemorei, a human resource practitioner says to begin with, Kenya churns out a high number of graduates into the market every year, meaning there aren't enough jobs to go around anymore.
He says despite these high numbers, employers are now more concerned about the quality of the graduates rather than the quantity.
"They want people who are ready to take up job challenges; those who are ready to learn on the go. Often, they raise questions on the level of "finishing" for those coming from colleges and universities," says Mr Chemorei.
He, however, says corporates can make a big difference in preparing young graduates for the job market by offering them internships.
It is through internships, says Mr Chemorei, that graduates get experience by putting theory into practice.
In recent years, some players in the corporate sector have reached out to new graduates through graduate training programmes such as the MSI Generation Kenya Project.
Future Graduates
Total Kenya is one such company. Through its Total graduate trainee programme, the company has been searching for creative, competitive, exceptionally bright and talented people.
"Our ambition and wider scope demands that we recruit and train fresh and young graduate trainees from local universities to help achieve our business goals," says the firm on its website.
Total's graduate trainee programme is periodical, offering opportunities even to future graduates.
Industrial Promotion Services Kenya (IPS Kenya) is another firm that offers similar internship opportunities for young graduates.
The IPS graduate management trainee programme is designed to provide young graduates with practical experience through industrial placement with an array of IPS companies, across various departments.
Other corporates that offer such programmes include Citi Bank, Kenya Airways, Earnest & Young, British American Tobacco and Barclays Bank.
At Generation Kenya Project, Ms Wamalwa was taken through a financial sales programme and was subsequently booked in for an interview which proved to be the big break that she was yearning for.
"During the mentorship programme I was in close contact with mentors. MSI made me develop remarkable skills that employers want in their staff," she says.