Strathmore University inaugurates humanities programmes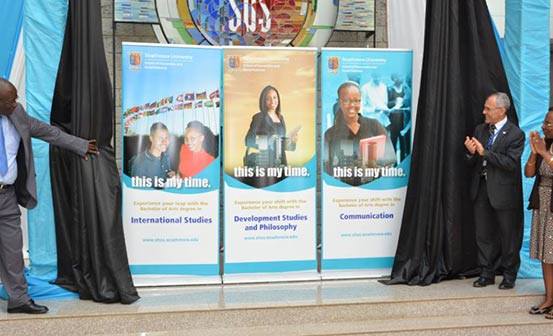 State House Spokesperson Manoah Esipisu, Strathmore University deputy Vice Chancellor Izael Da Silva with Dean School of Humanities and Social sciences Christine Gichure during the launch
NAIROBI, KENYA: Strathmore University has inaugurated three new degree programmes, their first Art based courses.
Bachelor of Arts (BA) degrees in International Studies, BA in Communication and BA in Development and Philosophy were officially announced by Prof. Christine Gichure, the dean of the School of Humanities and Social Sciences. Strathmore said it is in cooperation with the University of Washington in the USA, Hampton University in Virginia, USA and University of Navare in Spain.
Statehouse Spokesman Manoah Esipisu who was chief guest at the event said: "As Strathmore diversifies curriculum, you are faced with an incredible opportunity to augment your reputation and consolidate your premier position by maintaining the same academic rigor."
He was joined by Strathmore University's Vice Chancellor Prof. John Odhiambo and the French Embassy in Kenya deputy head of Mission Emmanuel.
This is the first time Strathmore is launching a Humanities based degree programme.
"The debut into the humanities is a welcome development that will go a long way to boosting quality of workforce in the communication, development and International affairs space," Said Esipisu.
"In Africa, the celebration of birth is a special moment. It is particularly so when triplets are involved," said Prof Christine Gichure Speaking adding that although her school has been offering background foundational courses to all faculties since the inception of university, debut into full-fledged bachelors of Arts was a feat that will now complete the university's multi-disciplinary approach.
The Vice Chancellor, Prof John Odhiambo said the launch of new programmes gives the institution new depth. "In the past, this school has played a sterling role in achieving the goal of a well-rounded holistic education of individuals who are thoroughly knowledgeable in their fields," he said.