Freretown:A town without a tribe
By Ngumbao Kithi
Although slave trade officially ended in 1807, its ugly scars remain in parts of Mombasa.
At Kisimani along the Mombasa-Malindi highway, is Freretown settlement, which was established for freed slaves. It is named after Sir Bartle Frere, who played a significant role in ending the trade.
People in Freretown have no tribe; they are all called Freretowners, the descendants of freed slaves. At Kengelini within the area is a huge bell symbolising bells that were rung to warn people whenever Arab slave ships were sighted.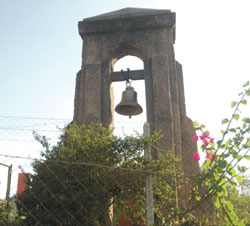 This huge bell was one of those that were rung whenever slave ships approached. Photos: 0mondi 0nyango. /standard

The National Museums of Kenya has since fenced off the bell and declared the site a protected national monument.

Kengeleni church built in 1875 is also another reminder of slave trade. Freed slaves from Nyasaland (now Malawi), Southern Rhodesia (Zambia), Northern Rhodesia (Zimbabwe) and (Southern Tanganyika) Tanzania worshipped here.

Among the descendants include radio personality Leonard Mambo Mbotela and his uncle Walter Mbotela, the late Francis Khamisi father of former Bahari MP Joe Khamisi, Mombasa deputy mayor John Mcharo and Bango music maestro Joseph Ngala.

When the Freretown population increased, the Church Missionary Society built a makeshift school where the freed slaves were taught languages. By the time Dr Johann Ludwig Krapf arrived at the Coast in 1844, plans to build a church had been worked out. The first church was built at Rabai in 1887 instead of Freetown and was known as St Paul's Church.

Originally, Freetown sat on 600 acres of land between Kengeleni, Mkomani, Nyali and Junda in Mishomoroni. However, in 1830, there was a disagreement between the missionaries and the freed slaves, which resulted in the sale of the land to a company called Nyali.

The descendants of freed slaves were later resettled on 50 acres at the new Freretown in Kisimani. The British Government used to give the community 40 pounds per month for the maintenance of Freretown but the grant was stopped after Kenya gained independence.

Unique identity

Tribalism does not exist in this neighbourhood where almost everybody took advantage of the missionary schools to acquire education. Just like the rest of the Coastal people, Freretowners are proud but are well aware of their unique identity despite intermarrying with others.

The Kenyan coast was a vital transit point for slaves who were captured further inland due to its proximity to the main market in Zanzibar.

But Arab slave traders established a smuggling port to the South of Mombasa, in an area now known as Shimoni, meaning a hole in Kiswahili.
Tecno launches Camon 19 and Spark 9
Tecno Kenya announces launch of Camon 19 series & spark 9 seriesThe CAMON 19 Series will offer incredible night-time photography features & the SPARK 9 Series will redefine selfie and iconic design for Gen Z.