Wycliffe Wangamati, Kenneth Lusaka defend their records as contest hots up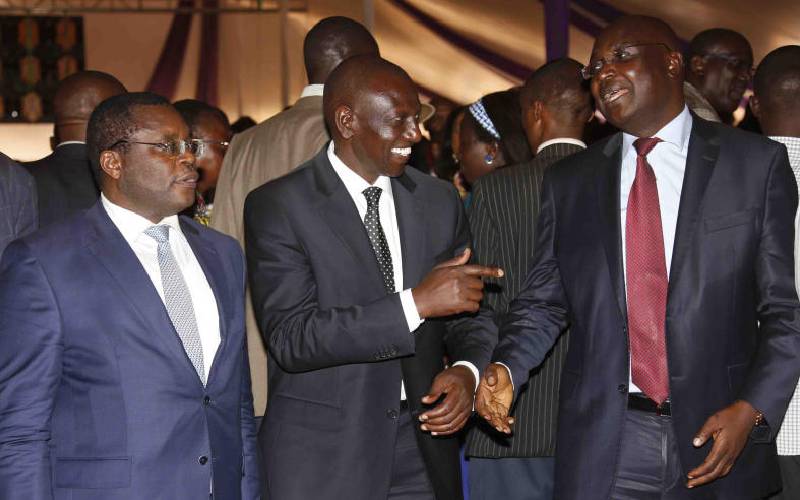 Governor Wycliffe Wangamati and his predecessor Kenneth Lusaka are locked in a bare-knuckle battle for Bungoma's top job ahead of the General Election.
The rivalry between the two political heavyweights has reduced the governor race to a two-horse race.
Mr Wangamati will be defending his seat on the Democratic Action Party of Kenya (DPA–K) associated with Defence Cabinet Secretary Eugene Wamalwa, while Lusaka who is the Senate Speaker is Ford Kenya's flag bearer.
In 2017, Wangamati, a career accountant managed to dethrone Lusaka, a former administrator in a hotly contested election. The incumbent won the seat on a Ford Kenya ticket with a margin of 21,493 votes after garnering 197,422 votes against Lusaka's 175, 929 votes.
In an interesting twist of events, Ford Kenya leader Moses Wetang'ula who held Wangamati's hand and guaranteed him victory in 2017 now prefers Lusaka to occupy the top county job once again.
Political analyst Martin Andati confessed that it is hard to tell who between Wangamati and Lusaka would win if the election was held today.
"At first, the perception was that Wangamati had lost ground significantly with the entrant of Lusaka in the race, but it appears things are changing and people have started to view the incumbent differently," Andati told The Saturday Standard in a telephone interview.
According to Andati, Wangamati is credited for investing heavily in education in the county.
"The impact of education programmes he has initiated can be seen through quality grades posted by local secondary schools in national examinations and many people can relate with efforts he has put in," said Andati.
A section of voters interviewed in Bungoma said the governor scholarship programme has given needy and bright children an opportunity to chase their dreams.
Joyce Nafula, a resident of Mateka said Wangamati's administration has done a good job in trying to address issues affecting the common person.
He initiated a scholarship programme which saw 69 out of 500 beneficiaries score straight As in last year's Kenya Certificate of Secondary Education (KCSE) exam.
"Education is an equalizer and I can assure you that the first cohort made us proud by getting quality grades," said Wangamati.
He warned that the programme is likely to collapse if the residents vote him out during the August elections.
The governor says he has scored some points for upgrading the 300-bed capacity paediatric wing at Bungoma County Referral Hospital as well as the upgrade of Masinde Muliro stadium on the outskirts of Bungoma town.
Lusaka on the other hand, claims he laid the foundation for the scholarship programme when he was the governor. "I laid the foundation for the scholarship programme and my intention is to expand it further so that we can have more beneficiaries coming on board," said Lusaka.
He argued that Bungoma used to receive Sh6 billion from the exchequer between 2013–2017 compared to the Sh12 billion Wangamati's administration has been receiving annually "so we could not have done much then."
Other factors in play include plans to expand health facilities, the revival of Nzoia Sugar Company and other industries including cotton ginnery in Malakisi, political party politics and regional balance.
Mr Lusaka is pledging to push for the revival of Nzoia and the empowerment of sugarcane farmers in the expansive Bungoma sugar zone if elected governor.
He has been urging farmers to diversify their agriculture activities so that they can benefit from the economies of scale. "I will provide a friendly environment for the youth and women to invest in small-scale businesses," said the former governor.
The Senate speaker commands a huge following in Mount Elgon from where his running mate Janepher Chemtai Mbatiany hails.
Mbatiany hails from the minority Sabaot community and her nomination did not come as a surprise having served as Gender Advisor in the Office of the Governor when Lusaka was the county chief between 2013–2017.
Analysts described Lusaka's choice of a running mate as tactical and deliberate because Mount Elgon is known for voting as a bloc.
Lusaka hails from Kimilili in Webuye East Constituency and his decision to pick a running mate from Mount Elgon could be an added advantage in terms of gender and regional balancing.
Mr Wangamati, on the other hand, enjoys a huge backing in Bumula and Sirisia constituencies but has been making inroads in other sub-counties to woo voters.
The governor has named Wangalama Sitati as his running mate. Wangalama is the current CDF chairman for Tongaren Constituency represented in parliament by DAP-K secretary-general Dr Eseli Simiyu.
He hails from the Tachoni sub-tribe in Kimilili. Some residents appear dissatisfied with Wangamati's choice but the county chief looks determined to popularise the ticket across the county.
Mr Wetang'ula and CS Wamalwa have been campaigning for Lusaka and Wangamati respectively making the contest look like Kenya Kwanza vs Azimio la Umoja coalition party contest.
DAP-K chairman Wafula Wamunyinyi said he wonders why Wetang'ula wants residents to elect Lusaka as governor yet he is the same person who pushed for the senate speaker's removal in the last election.
Isaac Wachekeche, a local politician said the contest is beyond Lusaka and Wangamati because there as many other factors in play.
"This battle is beyond the two politicians, Wetang'ula will be seeking to affirm his grip not only in Bungoma politics but at the national arena after falling out with Raila and teaming up with Ruto," said Wanjekeche.
He said Wetang'ula wants to prove to Wangamati who was among the masterminds of the botched coup in Ford Kenya that he is not in his league and also up his stakes on the national platform at the same time.
Businessman Zacharia Barasa has vowed to give Lusaka and Wangamati a run for their money in the race.
Mr Barasa will vie on United Democratic Party (UDP) ticket and has already picked Kinsley Mutali as his running mate.
He has been urging residents to reject both Wangamati and Lusaka claiming that they have tainted history.
"Both were mentioned adversely in corruption scandals but I am coming with clean hands and promise to change the way to manage county government affairs," said Barasa.