Two Ugandans among six suspected gangsters arrested in Bungoma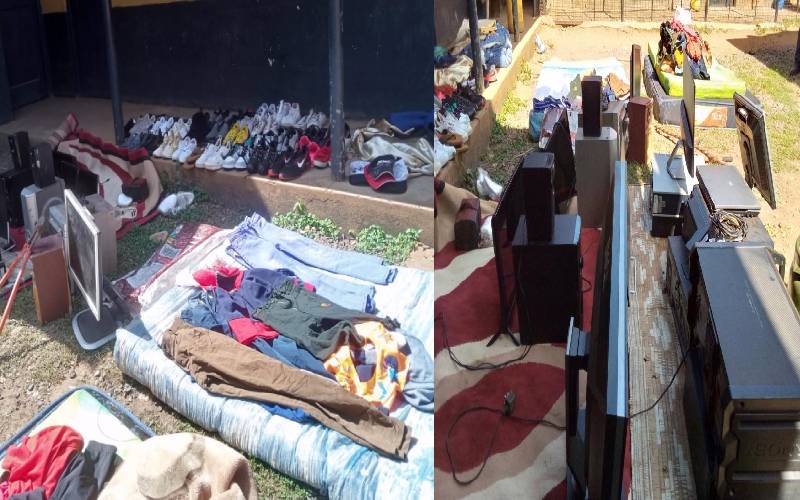 A group of six suspected gangsters has been arrested and goods worth over Sh600,000 recovered in Bungoma town.
Bungoma South Police Commander Benjamin Kimwele said two Ugandans are among the six who are being held by police at the Central Police Station.
Kimwele said the group was arrested during a three-day sting operation within the town following an outcry of increased theft.
"Officers have been conducting a security operation in areas bordering Bungoma town and they were able to arrest the suspects in possession of the stolen goods," said Kimwele.
According to Kimwele, the region has been experiencing an increase in criminal activities that prompted the police to carry out the crackdown.
"We suspect criminals from Uganda have been working with their accomplices in Kenya to break into people's homes, business premises and churches," he said.
Among the items recovered are television sets, woofers, computers, gas cylinders, assorted new shoes, new clothes, mattresses and cruse weapons.
Kimwele urged local residents who might have lost their items to visit Bungoma Police Station and help in identifying them.
"I would like to warn the criminals that their days are numbered. They have the option to reform or face the rough side of the law," he said.
The police boss further appealed to members of the public to volunteer information that will help the police smoke out criminals in the area.
Maryanne Maina, a local businesswoman who lost goods worth Sh500,000 after her boutique shop was raided, called on the police to intensify night patrols.
She said shoes worth Sh20,000 stolen from her shop are part of the goods recovered by the police.