Donkey in a race of horses
SUNDAY MAGAZINE
By Peter Theuri | Feb 27th 2022 | 3 min read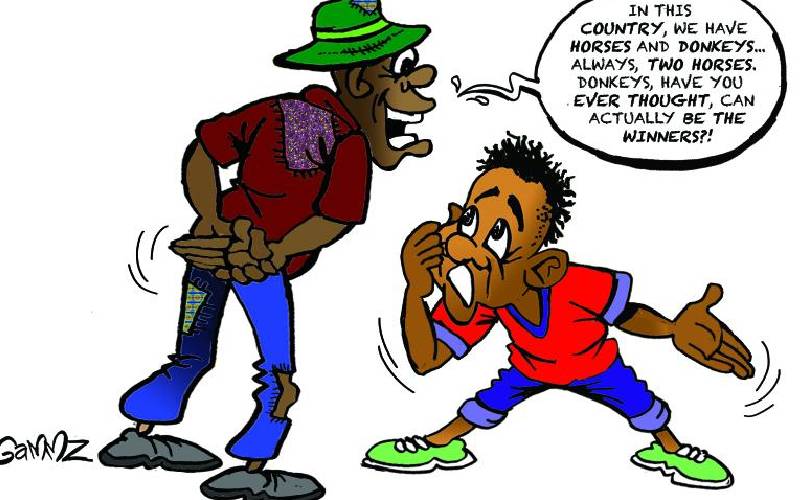 In Gitegi, we love to judge a book by its cover. We make sure that our judicial system is aware of this; it is the only place you can find sinners judging others and sentencing them.
I should not have been surprised, therefore, when Kinuthia, following my Valentine's altercation with Harold, stopped me as I hobbled home. I should not have judged him.
"Fita," he called out the way he always does, and I reminded him to respect his juniors and pronounce their names appropriately.
Like I have stated here before, Kinuthia is not one of the people you will get late for a listening to. Like Winnie the Pooh, Kinuthia is not known to have one of the bigger brains in the place.
He loves to talk, often saying things he cannot repeat because he does not understand them as well.
But because I was horrified after the altercation with my uncle, I chose to listen to him. He might have something to calm me down.
"I have heard that you are Harold's running mate. But how can you be a running mate to someone who cannot even run?"
I decided to listen and sat on the shoulder of the road. "Tell me more."
Kinuthia told me a story of how two hares lost a race to a tortoise because the two hares, being twins, or cousins, or whatever, kept on talking and that slowed them down. The tortoise won the race because it was slow and dumb.
So I could also decide to race against Harold and Sue. Did I not see, from his story, that I had a chance of winning this race?
He had not called me slow and dumb, or had he, and did not just think that I was in a position to beat Harold and Sue, or did he?
"Think of this, Fita. In this country, we have horses and donkeys. Always, two horses. Same here. But donkeys, have you ever thought, can actually be the winners?" said Kinuthia.
He went on to remind me how John The Baptist (I corrected him - it was Jesus) entered Egypt (no, it was Jerusalem) on a donkey. So, why did I not want to be the donkey here and make this triumphant entry into our statehouse, Harold's house, where I live?
But then you think about it no donkey has ever won a presidential race in Kenya. I did not stand much chance against the two. The only card I wield is that of being the head of the Judiciary and the controller of the voters' register. Which is all I need.
Kinuthia, however, advised me that launching my bid as an independent candidate would favour me as Harold and Sue would both be trying to lure me to their camps and would most likely have good offers.
I had to make a stand as soon as now, he said. Had I just forgotten the tortoise story, or was I proving to be slow and dumb, I thought he asked.
In the end, I knew he had a point. This is my best bargaining chip ahead of the elections.
I went home with a purpose. This is not about whose running mate I will be when it is all over. This is principally about the amount of money I can make before the elections from whichever of the two candidates wants me most. For like in Kenya, Gitegi's politics are not about the interests of the people, but about the interests of the leaders and those leaders, according to history, are Harold. ?