How your phone can save you a trip to hospital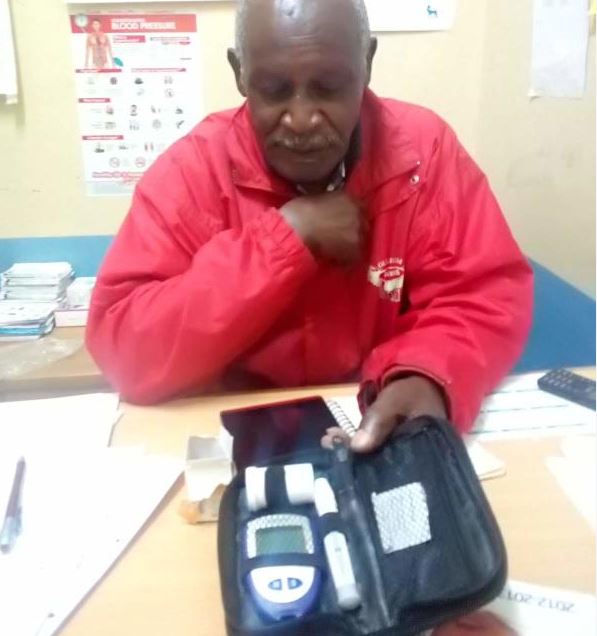 Reuben Magoko, 73, has been nursing diabetes for close to 30 years now.
He had been in denial for 10 years, largely due to the stigma associated with the disease. But not anymore.
Thanks to new technology, Magoko does not have to make the trip to hospital every time his blood pressure acts up.
All he has to do is have his mobile phone on standby, and log into Tiba Yako — one of the latest mobile phone applications that places your doctor a button away.
As mobile phones become indispensable tools in rural Kenya, doctors and global pharmaceutical companies are tapping on technology to reach the sick in the rural areas.
Phone screening
For Magoko, the mobile phone is not just a tool of communication — it is his lifeline.
"I get everything I need through the phone-screening, consultations, tests, prescriptions and information on how to manage my condition," he says.
Take a quick survey and help us improve our website!
Take a survey
Launched last week in Nairobi, Tiba Yako is the latest mobile phone application in the medical field that helps users monitor their diabetes and hypertension from the comfort of their sitting rooms.
The programme allows patients to monitor their blood pressure and blood glucose levels at their convenience, then digitally sending the results to their doctors for review.
Patients on the Tiba Yako platform are linked to yet another mobile platform, M-Tiba, that connects users to clinics and health insurers instantly through their mobile phones.
Rural communities
Healthcare providers can access the data collected through M-Tiba without having to see the patient in person. Moreover, diabetes and hypertension care becomes cheaper because patients can easily manage the conditions from home.
"We now have such mobile-based apps that can be used by patients and healthcare providers. We only hope that they can be sustainable and able to reach rural communities where it is difficult to access good healthcare," said Reuben Magoko, the national chairman of Kenya Defeat Diabetes.
Tiba Yako is an initiative of Boehringer Ingelheim, a pharmaceutical company based in Germany and PharmAccess, a non-profit organisation that works to improve access to quality healthcare in Africa.
The two platforms are supported by yet another programme called Afya Pap that aims to increase symptom recognition and treatment adherence.
The expanded platform will provide support for hypertension and diabetes screening and care through the mobile phone for low-income patients in selected clinics in Nairobi, Kiambu and Vihiga counties.
Experts say up to 50 per cent of patients with diabetes or hypertension are either not aware of their condition or are not compliant with their treatment regimen.
"Non-communicable diseases are on the rise in developing countries. Sadly, many who suffer from the conditions are not aware of it. Those who are aware have little knowledge of the diseases, hence the need to put such information in a way they can easily access it," said Isaiah Okoth, PharmAccess Foundation's country director.
According to Mr Okoth, high mobile phonepenetration in Kenya, especially among low income groups, creates opportunities for direct medical services and health financing models.
The new mobile phone medical applications are being driven by an unmet need for efficient and widely accessible care for hypertension and diabetes in Kenya, where prevalence is rising every day.
"Creating awareness around key healthcare challenges such as diabetes and hypertension is central to patients' overall management of the disease. As we continue to develop breakthrough therapies and healthcare solutions, access remains at the core to our business and values," said Ayman Eissa, Sub-Saharan Africa's head of human pharmaceuticals in Boehringer Ingelheim.
Shorter queues
For doctors, the new technology means shorter queues at the consultation room.
"The mobile tracker provides all the data required from the patient. By the time the patient comes to see you, you already know their medical progress and history," says George Mutagia, a clinical officer in Nairobi.
For Magoko, the mobile phone does more than just link him to his doctor; it constantly provides information on how to manage his condition.
This way, he has managed to keep the ravages of diabetes at bay because his phone faithfully reminds him to eat healthy, exercise regularly and above all, to take daily injection of insulin.
"It is good that global firms are at the forefront in driving research and disease management through the mobile phone," he says.