Kenyan start-ups received Sh35 billion in 2018, highest in Africa
NAIROBI, KENYA: The future of Africa tech start-ups is on an upward trend going by interest from venture capitalists across the world.
In 2018, African tech startups raised over Sh100 billion total in equity funding with Kenyan firms taking the lion share of the funding. This is according to the Partech Africa annual report on the financing of African Startups.
Kenya took the lead attracting Sh35 billion (US$ 348 Million) in funding over 44 deals, Nigeria has attracted Sh30.6 billion (US$ 306 Million) in funding over 26 deals and South Africa slowed down compared to Kenya and Nigeria, with Sh25 billion (US$ 250 Million) in funding over 37 deals.
Among the Kenyan startups listed to have benefited from the funding include Cellulant, Tala, M-Kopa, Mobius, BitPesa, Twiga Foods.
Private investment firm TPG in 2018 said it paid Sh4.8 billion to acquire an unspecified stake in Cellulant.
In an interview with a local media, Kennedy Njoroge, the co-founder and Chief Executive Officer of Cellulant said the journey of securing the financing began much earlier (15-years ago) with the laying of foundation and building a strong governance system making the business attractive.
"The financing is not an event but a journey which we started 15 years ago," he says. "From day one of the business, I was able to separate my role as a manager and as the owner to come up with a strong governance system that defines the company."
"This made the company more attractive and I was able to attract a pool of talented workers who dedicated most of their time to the business," he adds.
"The good governance system and the right talent made it easier for the investors to come in."
He says the process of financing which saw Private investment firm TPG pays Sh4.8 billion to acquire Cellulant started from the foundation but the final leg was a 24-months journey where he went to 60 investors across the world and did 400 presentations and a lot of travels from South Africa, London to the US.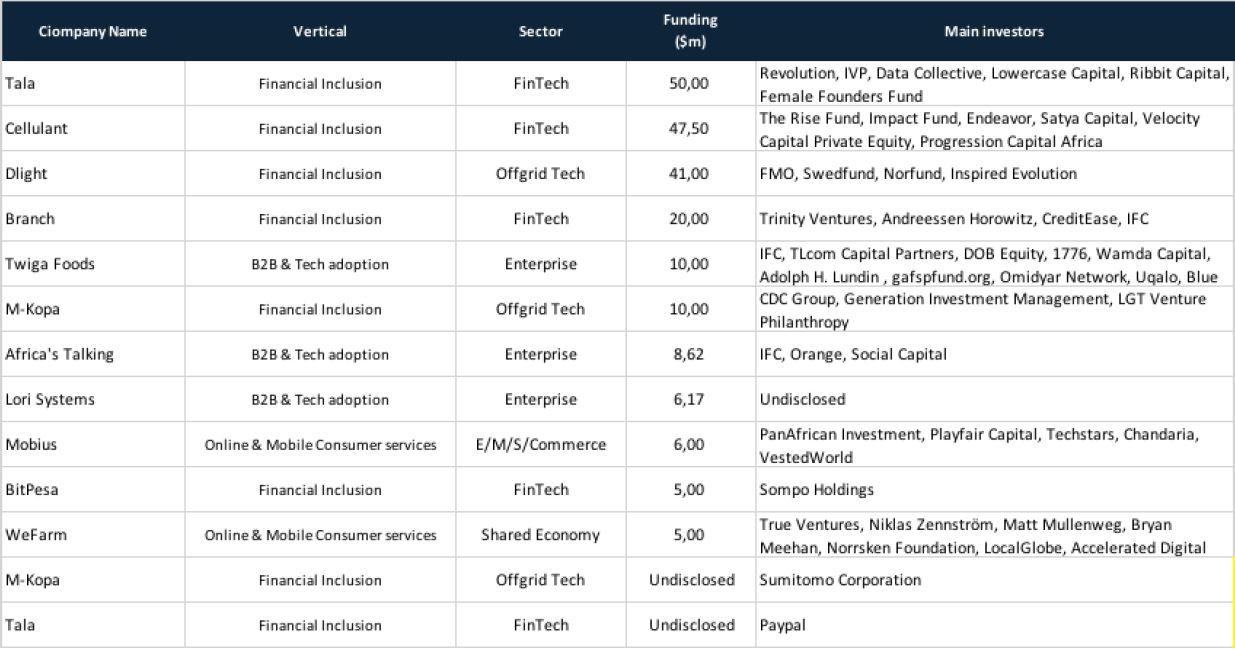 The Partech Africa annual report covers equity deals in tech and digital spaces, and funding rounds higher than Sh20 million and lower than Sh10 billion. Deals covered are both disclosed and undisclosed and the report only includes African start-ups i.e. companies with their primary market in Africa itself (i.e. in terms of operations and revenues).
In 2018, the report notes that 146 African startups raised a total of over Sh100 billion in equity through 164 rounds, this is a +108 per cent growth YoY, compared to +33 per cent in 2016 and +53 per cent in 2017. This also represents x4.2 growth multiple over the last 36 months.
"It's quite simply astonishing. When we started our journey to create the Partech Africa Fund in 2015, we had anticipated the $1 Billion mark to be broken by 2020. We are now already 2 years ahead of our projections", says Cyril Collo on of the General Partners from the Partech Africa Fund.
The Partech Africa report tracks a total of 164 rounds raised by 146 start-ups compared to 128 rounds from 124 start-ups last year, a +28 per cent growth YoY.